12 'Gilmore Girls' gifts for every Stars Hollow fan on your holiday list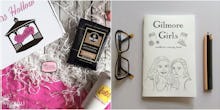 Sure, it has always been — and always will be — acceptable to gift someone a Gilmore Girls-inspired present. But what better time to do so than right after its revival premieres on Netflix? After all, fans that binge watched Gilmore Girls: A Year in the Life will likely need something to distract them from remembering the cult-favorite series is, once again, over. 
From Luke's Diner-themed coffee items to tote bags covered in Stars Hollow residents, we dug up 12 gifts that would be perfect for every person on your list this year. 
Time to throw on your holiday sweaters, grab some peppermint coffee and start shopping before you end up having to get someone monogramed towels. (We're looking at you, Luke.)
1. Lorelai, Rory and Sookie Pop! figurines 
In October, Funko announced it was adding three Gilmore Girls figures to its collection of pop culture-themed collectibles. Set to be released in December, these adorable mini characters make for the perfect stocking stuffers. Rory is decked out in her Chilton attire, Sookie in her bandana and Lorelai is of course holding her signature Luke's coffee cup. Find it here soon. 
2. Luke's Diner mug 
This mug is a must-have for all those fans wishing they "had coffee in an IV." To make this present even more Lorelai friendly, add two bags of coffee to go along with the cup. (And maybe some donuts or muffins.) Find the mug here for $14.99.
3. A classic Gilmore quote print
A watercolor print with Lorelai's "If eating cake is wrong, I don't want to be right" quote written on it speaks for itself. Because, who doesn't love cake? Find the print here for $15.
4.  Gilmore-themed lip balms
Earlier this month online retailer Urban Tee Farm went viral for releasing three lip balms in flavors named after and inspired by the series. There's Vicious Trollop, Spring Break and Java Junkie. (All are currently sold out but should be restocked in December.) Find the lip balms here for $5.25.
5. Character tote
Why not carry your things in a tote bag featuring a Gilmore mood chart with all of your favorite Stars Hollow characters? That way, instead of answering the question, "How are you?" you can just point to things like, "caffeinated" or "grumpy yet emotionally fragile." Find the tote bag here for $14.40.
6. Stars Hollow subscription box
Stars Hollow Monthly, a box that could either be purchased or renewed monthly and delivered straight to your door, contains three to five products inspired by the show and its fictional town. For example, August's box contained a porcelain Luke's Diner travel mug, coffee pack, a pill box with a fun quote and Dragonfly Inn coasters. You can order the box here for $34.90.
7. Gilmore-themed eyeshadow
These matte eyeshadows are perfect for someone who is both a Gilmore Girls fan and makeup addict. There are 17 different shades ranging from "Hit by a deer" and "It all comes out in moron" to "Notes in the margin" and "A film by kirk." You can find the eyeshadow here for $5.50 each.
8. "Where You Lead" cuff
Can't think of a gift for the Lorelai or Rory in your life? This gold cuff with the words from the show's theme song, "Where You Lead" might just be the ideal present. Find the cuff here for $20.
9. "In omnia paratus" mug
This is for all those risk-taking, umbrella jumping friends in your life. (Or for that person that already has a Luke's mug.) Find the mug here for $15.
10. Engraved pencil set
Know someone who still uses a pencil? Or maybe someone just looking to decorate their desk at work and not actually use the writing utensil? These pencils all finish the sentence "I love you like ..." and range from "Lorelai loves coffee" and "Luke loves plaid" to "Emily loves Friday night dinner" and "Rory loves to read." Get a set of six pencils here for $12.
11. Coloring book
Have a coloring book-obsessed friend? This 18-page version is filled with all of the show's characters, like Rory's three boyfriends. Find it here for $6.50.
12. Team Jess, Logan and Dean T-shirts
Admit it: Everyone who watches Gilmore Girls has their favorite Rory boyfriend. While most are, for obvious reasons, Team Jess or Team Logan, the tees are also available in Team Dean. And each feature the character's signature hair outline. Get the shirts here for $24 each.