Philando Castile: Jeronimo Yanez charged with manslaughter in school worker's death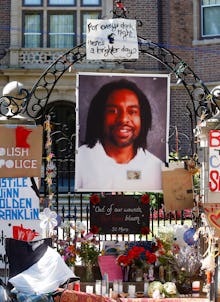 Minnesota authorities on Wednesday announced that St. Anthony Police Officer Jeronimo Yanez has been charged with manslaughter and weapons offenses, more than four months after the July 6 shooting death of Philando Castile in Falcon Heights, Minnesota. 
Ramsey County Attorney John Choi, who exercised his option not to bring the case before a grand jury, announced that Yanez has been charged with second-degree manslaughter. The officer has also been charged with two felony counts of intentional discharge of a dangerous weapon that Choi said endangered the lives of Castile's girlfriend and her 4-year-old daughter.
"Based upon our thorough and exhaustive review of the facts of this case, it is my conclusion that the use of deadly force by Officer Yanez was not justified," Choi said during a press conference. "Sufficient facts exist to prove this to be true."
Yanez is expected to make his first appearance in criminal court on Friday.
Choi said the manslaughter charge was built around an established legal standard for the reasonable use of force by law enforcement. "It is not enough for the police officer to merely express a subjective fear of death or great bodily harm" as justification for the use of force, the attorney said in the press conference.
The Castile's family welcomed Choi's decision in a joint statement Wednesday. "It's the beginning to a different chapter," Philando's mother, Valerie Castile, said during a news conference from their attorney's office, according to the Star Tribune. "We hope that the right thing is done in this chapter," she added.
Nekima Levy-Pounds, president of the Minneapolis NAACP, said people should be encouraged but "cautiously optimistic" about the chance for justice in the case. "I think that the decision today is a step in the right direction," Levy-Pounds said in a phone interview with Mic on Wednesday. "It's one less hurdle that the community and the family have to overcome, in terms of achieving some semblance of justice."
The 32-year-old Castile was fatally shot by Yanez during a traffic stop in Falcon Heights. Yanez had reportedly pulled Castile over for a broken tail light, but fired his service weapon at the man as he reached for his ID and wallet.
Castile's girlfriend, Diamond Reynolds, broadcasted the moments after Yanez shot Castile over Facebook Live. She and her daughter had been passengers during the traffic stop. Reynolds told the streaming audience that Castile was trying to show his ID.
"I have given Officer Yanez every benefit of the doubt on his use of deadly force," Choi said during the press conference. "But I cannot allow the death of a motorist who was lawfully carrying a firearm under these facts and circumstances to go unaccounted for."
(Editor's note: The following video contains graphic images of violence.)
Choi's office has mulled over the case since Sept. 28, when the Minnesota Bureau of Criminal Apprehension turned over the findings of its investigation for review, KMSP-TV reported then.
Castile's death came just one day after police in Baton Rouge, Louisiana, fatally shot Alton Sterling, a black man who police said was armed when they encountered him at a local convenience store. The pair of deaths ignited nationwide Black Lives Matter protests. 
Several police officers in Texas and Louisiana were ambushed in shootings by assailants who were not affiliated with activists. But the shootings served to worsen already tense relations between law enforcement and communities of color.
Castile's death helped inspire Mic's #23Ways campaign, which features some of biggest black music and film stars calling attention to police violence against African-Americans.
Nov. 17, 2016, 6:24 a.m. Eastern: This story has been updated.
Correction: Nov. 16, 2016