What is the 'American Horror Story' season 7 theme? New video sparks theories.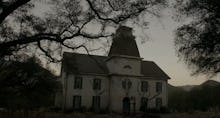 American Horror Story co-creator Ryan Murphy previously told reporters on a press call the season seven theme of the FX anthology series will not be announced until the spring. Of course, that hasn't stopped theories from circulating online.
Following the conclusion of Roanoke Wednesday night, the official Twitter account for the series posted a short video titled "Sweet Dreams." The clip features calm ocean waves before cutting to the creepy stick dolls the spirits would leave around the North Carolina farmhouse. The caption for the video reads, "The monsters are all gone."
The ocean — or any body of water for that matter — was not featured at all in season six. So could this be our first hint at the American Horror Story season seven theme?
The video might not be the only tease about an aquatic seventh season: One Reddit user pointed out the toy ship that was pushed over by one of the spirits in the finale could also be a clue about what's to come. Why bother focusing on it if it doesn't mean anything? The purpose of knocking the ship over was to make everyone in the house jump — they could have had the same reaction by knocking over a table or breaking a window.
So, what are we seeing here in regard to the season seven theme? A ghost ship? A cruise gone wrong? Maybe even a Castaway-like situation where someone ends up on a creepy island all alone? There's plenty of time to keep guessing: American Horror Story season seven premieres in 2017.