Judge rules Dylann Roof is competent to be tried for hate crimes in Emanuel 9 massacre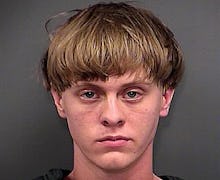 A federal court judge in South Carolina ruled Friday that Dylann Roof, the man charged with hate crimes in the June 2015 massacre at a historic black church in Charleston, is competent to stand trial.
According to a statement released by the U.S. District Court for South Carolina, Judge Richard Gergel announced the decision in relation to the shooting deaths of nine worshippers at Emanuel African Methodist Episcopal Church.
"The test for competency is whether the defendant 'has a sufficient present ability to consult with his lawyer with a reasonable degree of rational understanding' and 'has a rational as well as factual understanding of the proceedings against him,'" Gergel stated in a court order obtained by Mic. "After carefully considering the record before the court, the relevant legal standards, and the arguments of counsel, the court now finds and concludes that the defendant is competent to stand trial."
Jury selection is scheduled to resume on Monday, the court's statement said.
Last week, Gergel decided Roof's competency hearing would be closed to the public and that the contents of the court-appointed psychiatric examiner's report would be sealed, at least until after the judge could make a ruling.
Two weeks ago, Roof's defense filed a motion to halt jury selection to have their client's psychiatric condition evaluated.
Authorities allege Roof, who has professed white nationalist ideologies, targeted the Emanuel AME in Charleston, where members were holding a bible study meeting with the church's pastor, because the parishioners were black. In July 2015, the U.S. Department of Justice alleged in court that Roof committed hate crimes.
Roof, 22, is also charged with using a firearm related to his interference with the parishioners' exercise of religion, Attorney General Loretta Lynch said in a statement. If convicted, Roof could face the death penalty.
Roof's defense team has previously suggested that he would plead guilty to the charges if the feds took the death penalty off the table.
Nov. 25, 2016, 10:10 a.m. Eastern: This story has been updated.