Trump's 'Hamilton' tweets are a distraction from the stories he might not want you to see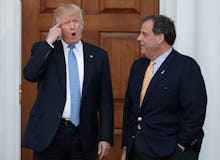 There has been plenty of unsettling news since President-elect Donald Trump's election, from hate crimes committed in his name to white Nationalists celebrating his choices of partners in his new administration. But the story that dominated the news cycle this past weekend was about Vice President-elect Mike Pence being booed at a performance of Hamilton.
Pence was booed by fellow theatergoers Friday in New York City, but the cast of Hamilton carried on with their performance. At the end of the show, actor Brandon Victor Dixon — accompanied by his cast mates — delivered a statement to Pence. 
"We, sir — we are the diverse America who are alarmed and anxious that your new administration will not protect us, our planet, our children, our parents, or defend us and uphold our inalienable rights, sir," Dixon said. "But we truly hope that this show has inspired you to uphold our American values and to work on behalf of all of us." 
The statement was polite — but you wouldn't know it from Trump's tweets. Over the next day and a half, he tweeted three times to express his displeasure over the booing and to accuse the show's cast of "harassing" his vice president. That's three tweets about Hamilton — and none about the swastikas drawn in Trump's name, or the potential conflicts of interest already at play as he makes plans to lead the United States while his companies work with foreign businesses across the globe. 
Trump seemingly spent an entire weekend getting mad at Hamilton — and it's worth noting that those tweets served as a juicy distraction from some of the pressing, and dangerous, news about his incoming administration. 
Here's what else we could have been talking about this weekend.
Jeff Sessions
News broke Friday morning that Trump had chosen Alabama Sen. Jeff Sessions for attorney general. In a statement, Trump said Sessions "is greatly admired by legal scholars and virtually everyone who knows him."
Sessions must still be confirmed, but with a Republican majority in the Senate, it seems unlikely that opponents would be able to stop his nomination. As the U.S. attorney general, Sessions is likely to be a hardline conservative. He opposes a path to citizenship for undocumented immigrants — something that 65% of Americans supported in 2015 — and has expressed support for a ban on Muslims. 
Sessions also has a troubling history of racist comments. A former black employee of his testified that Sessions had referred to him as "boy" and had joked about having positive feelings about the Ku Klux Klan. In 1986, those racist comments kept him from being confirmed to a federal judgeship. It seems likely that now Sessions will be one of the most powerful legal voices in the country. 
Trump University settlement
Trump is heading into office with multiple active lawsuits — but Friday, he reached a $25 million settlement agreement in a fraud lawsuit involving his failed Trump University venture. 
Trump tweeted about the settlement after the news broke, implying that he settled the suit because he did not "have the time" to go to trial — not because he was at fault. 
The size of the settlement is a damning indication of the severity of the grievances against Trump University — especially coming from Trump, who has, in the past, mocked business that chose to settle lawsuits, according to the New York Times. 
Trump University was accused of using predatory techniques to sell "students" on programs that cost thousands of dollars, even when they couldn't afford it, and hiring unqualified and un-vetted instructors to teach the courses. 
Acts of hate
Since the election, reports of acts of hate committed in the name of Trump have surged. Just last week, swastikas were spray-painted in a park named for Beastie Boy Adam Yauch, along with the words "Go Trump." Hijab-wearing Muslim women have been attacked and harassed. And the hate isn't just random and dispersed — it's also organized. 
White nationalists held a conference in Washington, D.C., over the weekend during which white Neo-Nazis and self-described racists gathered to share enthusiasm and excitement for the Trump administration. Trump himself has never explicitly rejected the support of white nationalists — and, at times he has actively courted their support, retweeting tweets from white supremacist accounts. 
Bannon protests
While Trump has taken the time to tweet that protests in opposition to him are "unfair" — despite the fact that he won, and, as president, will ostensibly have to work to serve the interests of all Americans whether they voted for him — he has not spoken about the protests calling on him to fire former Breitbart editor Stephen Bannon, who Trump has tapped as a top adviser. 
"Under Bannon's Leadership, Breitbart openly embraced the white supremacist alt-right ... with [Milo] Yiannopoulos pushing white ethno-nationalism as a legitimate response to political correctness, and the comment section turning into a cesspool for white supremacist mememakers," former Breitbart editor Ben Shapiro, who worked closely with Bannon in a piece for his conservative news site the Daily Wire, said.
Trump's selection of Bannon to play a key role in his presidency only stokes the fears of those who are terrified that Breitbart's brand of hyperbolic and combative racism, sexism and transphobia could become national policy. 
Conflicts of interest
Fears about how Trump will simultaneously manage both his business interests and the interests of the United States have only mounted since he began assembling his administration. As Mic previously reported, Trump will enter office with "unprecedented" conflicts of interest, including an ongoing lawsuit between the Trump Organization and the government over a Trump hotel on government land, his debt to Deutsche Bank and his vested interest in the Dakota Access Pipeline.
Trump's promises that his business affairs will be managed by his children are also worrying, because several of those children sit on his transition team and his daughter, Ivanka Trump, were recently photographed in a meeting with Japan's Prime Minister Shinzo Abe. 
Trump seems to be planning to go on with much of his business as usual. He reportedly met with an Indian businessman and his partners last week, despite promises to set aside his business dealings while serving as president. Needless to say, Trump hasn't tweeted about any of his secret meetings.