New Nintendo 3DS Black Friday 2016 Deals: Play 'Pokémon Sun and Moon' in style for $100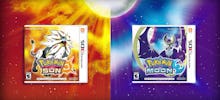 If you don't want to wait until after the Nintendo Switch is released to play Pokémon Sun and Moon, but you don't feel like spending $200 for a New Nintendo 3DS, you're in luck. Black Friday is right around the corner with a special offer on the New Nintendo 3DS.
Best Buy is advertising an in-store Black Friday sale for a Super Mario-themed New Nintendo 3DS that's only $100. That's a fantastically low price if you're willing to brave the crowds.
Black Friday New Nintendo 3DS deals: Is it worth the upgrade?
Take note, the Best Buy sale is specifically for a New Nintendo 3DS, as opposed to a regular Nintendo 3DS. The new version of the hardware features a much larger screen, an improved 3-D graphics system which gives your head greater range of movement without losing the 3-D effect, and a second analog stick, on the right side of the system.
In part, what makes a potential release of Pokémon Sun and Moon on Nintendo Switch so exciting is the idea of playing a "main" Pokémon game on a much larger screen than ever before. In the meantime, if you have to play it on the 3DS, you can get the newest model for only $100. That's a damn good price.
Pokémon Sun and Moon: Everything you need to know
Once you have your hardware purchased and are ready to start catching them all in Pokémon Sun and Moon, you'll want to read up so you can be the best. Check out our guides for picking the right starter, Pokémon Sun and Moon cheats, using a damage calculator, how to catch the new legendary Pokémon, how to get Munchlax and picking between Pokémon Sun and Pokémon Moon.