Mayor Bill de Blasio said NYC will sue if Donald Trump goes forward with Muslim registry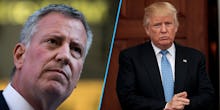 New York City mayor Bill de Blasio has a message for Muslim Americans: "We will protect you. This is your home." 
On Monday, de Blasio told the anti-hate rally audience at Cooper Union Hall that the city will sue President-elect Donald Trump if the proposed Muslim registry database comes to fruition.
"If all Muslims are required to register, we will take legal action to block it," de Blasio said, according to Gothamist.
The "Muslim registry," reportedly being talked about with Kansas Secretary of State Kris Kobach, would require Muslims to register their name in a database for tracking purposes. Kobach, under the George W. Bush administration after the 9/11 attacks, also helped design the National Security Entry-Exit Registration System in 2001. The NSEERS list included over 110,534 Muslims living in the United States from 149 countries. In December 2015, Trump called for a "complete and total shutdown" of Muslims entering the country.
De Blasio, appearing with numerous influential faith and community leaders in NYC, also stood up for various communities in his remarks.
De Blasio pledged to prevent the NYPD from helping to deport undocumented immigrants and said he would do whatever he can to challenge the Trump administration in regards to stop and frisk policies that disproportionately affects black communities.
"If the Justice Department orders local police to resume stop and frisk, we will not comply," de Blasio said.
The mayor met with Trump on Wednesday for a "candid" meeting, according to CNN. He expressed issues over Trump's proposed plans of a Muslim ban and mass deportations.
"I tried to express to him how much fear there is — how much fear there is in communities all over this city," de Blasio told reporters, according to CNN. "A whole range of people in the biggest city in the country who are fearful about this current dynamic and how we need to see things that will give people more assurance that all New Yorkers and all Americans will be respected."