Right-wing TV network runs Daniel Holtzclaw billboard saying "What if he didn't do it?"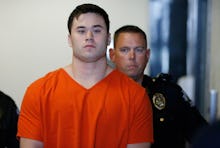 Conservative media network CRTV, which operates right-wing radio host Mark Levin's Conservative Review and recently launched a new digital network, recently put up a billboard in Northeast Oklahoma City, Oklahoma asking if convicted serial rapist Daniel Holtzclaw is innocent.
On Tuesday evening, CRTV issued a statement saying billboard operator Tyler Media had agreed to take down the sign against CRTV's wishes under pressure from community activists.
The billboard shows a photo of Holtzclaw in court accompanied by the text "What if he didn't do it?", OKC Fox reported.
Holtzclaw is the former Oklahoma City police officer sentenced to 263 years behind bars in January 2016 for 18 of 36 counts of sexual battery, forcible oral sex and rape after 13 women accused him of assaulting them while in uniform.
As Jezebel reported, the billboard is intended to promote an upcoming CRTV series by right-wing media personality Michelle Malkin entertaining the notion Holtzclaw is innocent of the crimes of which he was convicted. For his part, Holtzclaw has maintained his innocence, telling ABC 13 detectives on the case he had given the 13 women the equivalent of a "lottery ticket."
"He was a convicted rapist," OKC Artists For Justice Executive Director Grace Franklin told OKC Fox. "He's not an accused rapist. He's a convicted serial rapist, so I think it will bring up a lot of emotions ... Our concern is for the survivors and their families having to rehash this, having a media outlet give validity to the conspiracy theories, which didn't work in trial and they're not going to work on an appeal."
"CRTV supports free speech," the company's statement read. "We are disappointed that Tyler Media caved in pressure to take down the billboard."
In the statement, Malkin added "Oklahoma City's left-wing activists succeeded in getting our billboard taken down ... these activists wont be able to censor our broadcasts about the Holtzclaw case."
Nov. 22, 2016, 9:37 p.m. Eastern: This article has been updated.
Correction: Nov. 22, 2016