'3%' Release Time: When and how to watch the new Netflix series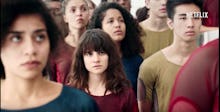 For most pop culture savants who are also Netflix subscribers, Nov. 25 is a special day, considering it's when we'll be treated to the highly anticipated return of Gilmore Girls. The revival series is an ideal post-Thanksgiving binge-watch for fans who want to be swept away to Stars Hollow and forget about all the horrible things that are happening in the real world. 
But if you want something more on the nose, you might want to try 3%. The first Netflix original to be named after a percentage point (it's pretty weird), the series has an interesting post-apocalyptic premise: Only 3% of the Earth's population is allowed to go to the "better side" of the world, known as the Offshore. The remaining people will live in unsparing poverty.
It appears teenagers are given equal opportunity to make it to the Offshore, but must face a grueling set of obstacles to get there. It looks like an entertaining mix of Battle Royale and City of God, the latter of which makes sense considering 3% is also set in Brazil (and thus, is in Portuguese). When can Netflix users check it out? 
Like Gilmore Girls, 3% arrives on Friday, and probably the earliest you'd be able to watch the series is 3 a.m. Eastern. This is based on the previous release times for other Netflix series, like The Crown and Orange Is the New Black, and this appears to be so Netflix users on the West Coast can start their binge at midnight. 
That means East Coast watchers who are seriously anxious to check out 3% can stay up until 3 a.m. to watch the show. Or, if you're stuffed full of turkey and pass out beforehand, it'll be waiting for you in the morning. 
How do you watch it? You go on Netflix if you're already a subscriber and press play — you can do this, you're smart — which can also work when hooked to the TV or Netflix's mobile app. Or, if you're not yet a Netflix user, you can sign up and get the first month free. It's not hard. Seriously, things could be worse: You could be forced to fight other reasonably handsome teenagers in post-apocalyptic Brazil to live in a shiny utopia.