The Weeknd 'Starboy' Track List: Top 5 songs from the new album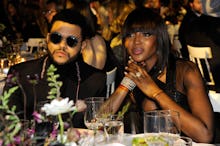 The latest chapter of The Weeknd's evolving career, titled Starboy, has opened after a long tease — and it's a sinister one. Spanning 18 tracks, the album careens through many corners of The Weeknd's usual musical interests — dilated-pupil club jams and vengeful ballads. There are a few new sounds in the bag as well: a little vapor wavy synth jam in "I Feel It Coming," some more uptempo house in "Rockin'." 
Most of the album settles into The Weeknd's bleary trap-driven R&B, with satisfying shreds of melody and cunning lyrical turns scattered throughout. Here are a few of Starboy's immediate standouts that may help the cautious listener ease into The Weeknd's new nightmare.
"Starboy"
"Starboy," the title track and the tightest composition on the album, is one of The Weeknd's most balanced pop tunes. It still communicates that depraved, hungry restlessness, as all good Weeknd music has, overlaid with enough pop veneer to make it palatable, but not inauthentic.
"Reminder"
The album's fourth track serves as the author's personal introduction to Starboy. It's very literally a reminder of who The Weeknd is and where he stands in the industry.
"I just won a new award for a kids show/ Talking 'bout a face coming off a bag a blow," the Weeknd raps in one key line, nodding to his Teen Choice Awards nomination for "I Can't Feel My Face," becoming perhaps the first artist to put that particular award show on blast. "I'm like goddamn bitch I am not a Teen Choice/ Goddamn bitch I am not a bleach boy." 
It's paired with one of the album's simplest but most resonant choruses on the whole piece: "Every time we try to forget who I am," he sings. "I'll be right there to remind you again/ You know man." Shots fired.
"Stargirl Interlude"
With their every collaboration, it becomes more clear: Lana del Rey is The Weeknd's perfect indie pop counterpart. Both share this unabashed attraction to exploring the most disconcerting realities of the human experience, and sound otherworldly doing so. The two artists collaborated once before on "Prisoner," and though "Stargirl Interlude" is more of a sketch than a full song, it still shows both artists at their brooding best.
"Sidewalks"
Starboy makes careful use of features. Only four artists earn official feature credits, but each one pulls their weight: Lana Del Rey, Future, Daft Punk and the peerless Kendrick Lamar. The rapper goes in on "Sidewalks," bounding over the beat with several different flows.
"He's a genius," The Weeknd told Zane Lowe of Lamar's contribution. "It wasn't just a random Kendrick Lamar verse, it was something special because again, I don't like to say this all the time, but we've known each other for a while and it's crazy how we started connecting on this record."
"All I Know"
Many of the middle-to-late tracks on Starboy get a bit blurred and meandering, but the appearance of Future on "All I Know" breaks that spell. It gives Future a chance to return to the pain he attempted to sift through on his still stunning mixtape Monster. 
His verse is paranoid, blowhard, a perfect complement to the Weeknd's catacomb disco: "I keep that trigger beside me," he autocroons. "I know like you know/ You just another body." 
It's a vital reminder of the danger that has always lingered in the back alleys of The Weeknd's sound, one that those that first heard his music at the Kids' Choice Awards may have yet to confront. Kids, meet Starboy and his dear friend the Wizard. You'll understand their music when you're older.