Judge grants Dylann Roof's motion to represent himself in South Carolina hate crimes trial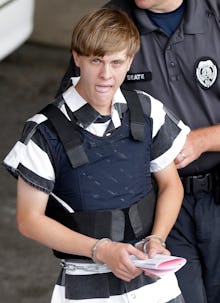 A federal judge in South Carolina on Monday granted Dylann Roof's surprise request to represent himself in his own hate crime trial, the Charleston Post and Courier reported.
Roof, 22, who is charged with gunning down nine black churchgoers in Charleston in June 2015, allegedly because of their race, filed a motion in court just before jury selection got underway. If convicted, Roof faces the death penalty.
The judge's decision means Roof, who has professed white nationalist ideologies, could potentially make his own opening statements and arguments during the proceedings. According to the Post and Courier, it could also mean that Roof can question or cross examine shooting survivors and victims' family members from Emanuel African Methodist Episcopal Church.
"I do find defendant has the personal capacity to self-representation," U.S. District Judge Richard Gergel said in court, according to the Post and Courier. "I continue to believe it is strategically unwise, but it is a decision you have the right to make."
Federal authorities allege Roof targeted Emanuel AME, where members were holding a bible study meeting with their pastor on June 17, 2015, because the parishioners were black. The feds said there is evidence that Roof sought revenge for wrongs he felt have been committed against whites by African-Americans.
In July 2015, the U.S. Department of Justice filed a 33-count hate crime case against Roof in court. The case includes charges for Roof's criminal use of a firearm, in the alleged attempted murder of three other churchgoers.
Roof reportedly told Gergel he wanted his lead defense attorney, David Bruck, who represented the Boston Marathon bomber in his 2015 death penalty trial, and his other defense attorneys to act as his stand-by counsel. Member of Emanuel AME and victims' family members were present in court when Gergel granted Roof's motion.
Jury selection commenced Monday morning with Roof acting as his own legal counsel; he did not have questions or objections as Gergel questioned the first set of 10 potential jurors, who were all white, the Post and Courier reported.
The judge ruled that Roof is competent to stand trial on Friday, after his defense team halted jury selection to have their client undergo a psychiatric evaluation.
Members of Roof's defense team could not immediately be reached for comment on Monday.
Nov. 28, 2016, 3:55 p.m. Eastern: This story has been updated.