Donald Trump Electoral College: Harvard professor says 20 electors may switch their vote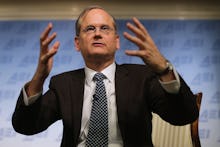 Larry Lessig, a Harvard University constitutional law professor, claimed on Twitter Tuesday that 20 Trump electors could flip their vote, diminishing Trump's 306-to-232 Electoral College lead over Hillary Clinton. If 37 Trump electors flipped to anyone but Trump, he would fail to meet the 270-vote threshold required to win the presidency.
Lessig, who runs the anti-Trump group "Electors Trust," has been offering pro bono legal counsel to Republican electors thinking about flipping.
Beyond Lessig's claims, there's no evidence that 20 electors plan to switch. According to Politico, only one Republican elector has publicly confirmed their intention to vote for someone other than Trump. On Monday, Chris Suprun a Republican elector from Texas, told the Houston Press that he attempted to contact various Republican officials regarding renewed concerns over Trump's failure to "act presidential" after winning the election. However, Suprun said he did not hear back — at least, not until after he wrote an op-ed for the New York Times announcing that he would not be voting for Donald Trump.
"I certainly heard from them all afterward, of course, but by then I had already made up my mind," Suprun told the Houston Press.
However, Politico reported that Lessig has been acting as a sort of middleman for electors to "privately communicate their intentions," so there could be more in the woodwork who are staying silent to avoid the harassment and death threats Suprun says he's received since announcing his decision to flip.
Suprun says the tipping point came when Trump continued attacking The New York Times and when "Governor Pence started parroting Trump's phrase about how there were three million illegal votes. That was it for me."
"Hamilton Electors" are suing their states to vote outside their party
While Texas has no law against vote flipping, 29 states do. So-called "Hamilton Electors" across the country are working to vote for an unnamed Republican alternative in a united effort to keep Trump out of the White House.
In Colorado, which Hillary won, two Democratic electors sued the state to allow electors to vote for someone other than the candidate who won the state's popular vote. According to CBS, Democratic electors Polly Baca and Robert Nemanich sued to vote for a Republican besides Trump. Electors in Washington and California have filed similar lawsuits.
Local CBS affiliate, KKTV reported on Tuesday that Judge Elizabeth Starrs ruled that Colorado electors must vote for Hillary Clinton, the state's popular vote winner, or be replaced. This ruling establishes a precedent that curbs efforts to allow legally-bound Republican electors in other states to switch votes, making their long-shot effort to keep Trump out of the White House even longer.
The RNC is keeping a tight leash on Republican electors
The push against a Trump presidency remains, with Clinton supporters leaning on the possibility of an electoral flip. A Change.org petition to the Electoral College to make Hillary Clinton president has almost five million votes. Another petition, sponsored by Daily Kos, asking the Electoral College to vote for the popular vote winner, now has more than 600,000 signatures. Meanwhile, almost one in four Democratic electors have demanded an intel briefing on foreign interference of the election before they cast their votes.
Politico reported Tuesday that the Republican National Committee is conducting an intensive whip operation to ensure Republican electors in states that allow vote flipping remain with Trump. The RNC has reportedly contacted Republican electors multiple times and determined that only Chris Suprun plans on voting against the party. Arizona GOP Chairman Robert Graham told Politico, "I think right now, [the RNC is] getting a pretty consistent message back from the states that everything's good."