Is Dylann Roof trying to get "death by jury" in Charleston trial? Some experts think so.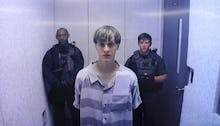 Dylann Roof's motion to represent himself in a capital murder trial, which a federal judge granted on Monday, may be an indication the 22-year-old doesn't plan on actually defending himself.
Instead, the professed white nationalist who is charged with hate crimes for the June 2015 shooting deaths of nine black churchgoers in Charleston, South Carolina, may be accepting "death by jury," said defense and jury selection experts monitoring the case. His former defense team, who are now acting as stand-by counsel, had exhausted attempts to avoid the death penalty.
"Sometimes when people self-represent, whether it's a death penalty case or not, they just lay down," Chris Adams, an experienced criminal defense attorney with his own law practice in Charleston, said in a phone interview Monday. "They don't ask any questions or make objections."
Roof's actions in court on Monday seemed to point to that possibility, Adams said. According to Mic-obtained court filings and media reports, Roof asserted his right to discharge his team of defense lawyers and represent himself as potential jurors were questioned in U.S. District Court.
He had no questions or objections as Gergel questioned the first few sets potential jurors, who were nearly all white, the Charleston Post and Courier reported. But according to a tweet from WCSC-TV reporter Lisa Weismann, Roof made his first and only motion to strike the sole potential juror who was black and male.
But having no questions for potential jurors is unusual for anyone who really wants to free himself or avoid being put to death, Adams said. "That signals to me that he's not going to put up a fight at all and he's actively seeking death by jury," Adams said.
Federal authorities allege Roof targeted Emanuel African Methodist Episcopal Church because the parishioners were black. The feds said there is evidence that Roof sought revenge for wrongs he felt had been committed against whites by African-Americans.
In July 2015, the U.S. Department of Justice announced a 33-count indictment including hate crime charges against Roof. The case includes charges for Roof's criminal use of a firearm and the alleged attempted murder of three other churchgoers. Roof's attorneys have suggested that their client was prepared to plead guilty, if the government took the death penalty off the table.
On Nov. 7, U.S. District Judge Richard Gergel suspended the start of jury selection, after Roof's defense team requested a competency hearing and asked to have their client undergo a psychiatric evaluation. Gergel ruled that Roof is competent to stand trial on Friday.
But Roof's surprise motion to represent himself doesn't necessarily tarnish his reputation with potential jurors or imperil the possibility that he'll receive a fair trial, Philip Anthony, a trial consultant with the Los Angeles-based firm DecisionQuest, said in a phone interview.
"From the jury perspective, jurors always find it odd when a person elects to represent themselves," Anthony said, citing the widely known practice of courts appointing lawyers to defendants who can't afford them. "In a normal case, it's typically seen as passion on their part, that they believe in their position."
But that's not the case with Roof, Anthony added. Given that he has indicated his willingness to plead guilty, if he doesn't face the death penalty, Roof's choice to defend himself in court would not be seen as normal. He could choose not to give an opening statement, to call witnesses or cross examine those called to testify against him.
"It could either enure to his benefit or his detriment, depending upon on how he presents himself to the jury," Anthony said. "How that turns out, it's hard to say."
As he granted the motion on Monday, Gergel said he found it "unwise" for Roof to make such a critical decision at this juncture of the trial, the Post and Courier reported. In a court-filed memorandum responding to Roof's motion to represent himself, federal prosecutors affirmed the defendant's right to choose self-representation. 
"A district court may not deny a defendant his right to self-representation based on conclusion that the choice of self-representation is foolish," Assistant U.S. Attorney Beth Drake wrote in the court filing. The government has also requested that Gergel schedule a Faretta hearing, which is conducted to determine whether a defendant made an informed decision in waving his or her right to counsel.
However, Roof has asked the court to allow his lead defense attorney, David Bruck, who represented the Boston Marathon bomber in his 2015 capital case, and his other defense attorneys to act as his stand-by counsel. Bruck and the other defense team members could not be reached for comment on Monday.
Even with the court's accommodations to ensure Roof has a fair trial, the judicial system works best when two sides, equally matched, fight it out, Adams said. 
"My guess is that the prosecution, the judge, the defense team hates that this happened because they understand the issue that this creates," Adams said. "Roof has a great legal team — compassionate, experienced and talented lawyers. It's a shame that they're not going to get to do the work for him."