How Donald Trump's HUD secretary pick, Ben Carson, lost black America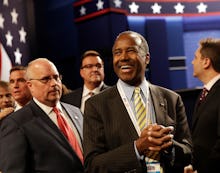 Ben Carson will be nominated as the United States' next Secretary of Housing and Urban Development, the Trump transition team announced early Monday. This makes him among the most well-known members of Donald Trump's incoming presidential administration so far.
But the appointment is also the clearest symbol of how far the former Republican presidential candidate's once-formidable stature has fallen among black Americans. "He had tremendous positives before he started speaking as a potential candidate," Carole Bell, a professor at Northwestern, told PBS in 2015. "But the more he speaks, the more there's opportunities to sort of really show there's a gulf between him and a lot of African-Americans."
Long before he made a name for himself in conservative politics, Carson was one of the United States' most celebrated neurosurgeons. As director of pediatric neurosurgery at Johns Hopkins Hospital in Baltimore, Carson performed seemingly unimaginable feats. In 1987, he spent 22 hours successfully separating conjoined twins. Ten years later, he was the primary surgeon on a team that separated twins joined at the head during a 28-hour operation.
Carson's medical accomplishments were the basis for his 1990 autobiography, Gifted Hands. The book became a national bestseller and earned him special status in black America as an example of beating the odds and excelling in a white world. 
In the book, Carson wrote about growing up in poverty in Detroit, being raised by a single mother and struggling academically and emotionally. After trying, and failing, to stab a friend during a fight, Carson decided to overcome his anger and finally get serious about school. That decision, he wrote, eventually landed him at Yale.
After graduating with a bachelor's degree in psychology in 1973, Carson enrolled and in, and eventually graduated from, the University of Michigan's Medical School in 1977. In 1985, Carson was named the top pediatric neurosurgeon at Johns Hopkins Hospital. At 33, he was the youngest chief pediatric neurosurgeon in the country. By 2009, his life story had been turned into a film starring Cuba Gooding Jr. 
A key component of Carson's message to his readers was that discipline, hard work and dedication could lift people out of the most dire circumstances. It was classic conservative "pull yourself up by your bootstraps" ideology. As BuzzFeed's Joel Anderson wrote in 2015, shortly before Carson announced his run for president, the retired surgeon's thinking was in lockstep with other black leaders who preached self-reliance as the primary way to defeat American racism. 
"Carson's message was virtually indistinguishable from the sermons many in the audience might've heard from the pulpit of a black church," Anderson wrote. "Carson could talk about personal responsibility and self-reliance and turning tragedy into triumph because of his familiar biography, echoing homilies delivered by men ranging from Malcolm X to T.D. Jakes."
Carson, a devout Seventh Day Adventist, even became a preacher, publishing more books and taking his message to a wider national audience. But where Carson began to diverge from other black leaders became obvious shortly after Barack Obama took office in 2009, and the conservative Tea Party began taking shape in cities and towns across the country. Their core mission was to disrupt the agenda of the first black president. 
On Jan. 18, 2015, Carson gave a speech at a South Carolina Tea Party Convention that solidified his place as a conservative thought leader. 
"The progressive movement is a large part of pushing the PC agenda," he told the crowd. "They try to label people. ... They tried to put on the Republicans, for instance, the label of people who are not compassionate, who are hateful, who are racist. Is that the same Republican Party that was formed largely as an abolition [to slavery]?"
Once Carson officially joined the race for president in May 2015, he made it a point to attack President Obama. But it wasn't just Obama's policies that Carson went after. It was his racial identity.
"Like most Americans, I was proud that we broke the color barrier when he was elected, but ... he didn't grow up like I grew up," Carson said on Politico's "Off Message" podcast in February of 2015. "Many of his formative years were spent in Indonesia. So, for him to, you know, claim that, you know, he identifies with the experience of black Americans, I think, is a bit of a stretch."
It was a particularly telling exchange because of how widely popular Obama has been throughout his presidency among black Americans. In 2008, 96% of black voters supported Obama's ascension to the White House. In 2012, more than 90% of black voters again supported Obama, and for the first time ever, blacks voted at higher rates their white counterparts. 
Carson's conservative bootstrap rhetoric and pointed racial attacks against Obama planted him firmly against the majority of black Americans who supported Obama and his domestic policies, such as My Brother's Keeper, the president's initiative supporting black male achievement. 
That sentiment is what drove the Daily Beast's Goldie Taylor to say aloud what many were already thinking: that Carson was white America's perfect black black candidate.
"Ben Carson is the ideal candidate of color for the right," MSNBC's Joy-Ann Reid told Taylor. "He rejects race as a construct for explaining social and economic mobility, just as white conservatives do; and he even rejects the public programs that helped his own family survive, mirroring the donor class of his party who want to get rid of those programs."
But the ultimate irony of Carson's political rise is that it's been alongside the most racist president-elect in recent memory.