7 things about the Black Lives Matter policy platform you probably didn't know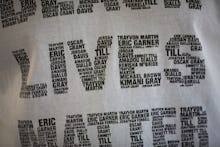 Black Lives Matter isn't just a saying, it's a movement. But it's also part of a larger umbrella of organizations that have come together as part of the Movement for Black Lives. That network gained national prominence by protesting against police brutality, unchecked power by local prosecutors, the erasure of black people's interests from public policy agendas and more. 
In August, representatives from the movement finally stated, in no uncertain terms, what they stood for. The details are outlined in a 22-page policy platform available online. Here's what you need to know about it.
1. It is focused on, but not exclusive to, black people.
There's a saying that's become popular in the movement: "When black people get free, everyone gets free." The Movement for Black Lives' policy platform is a prime example of what that reality could look like.
The platform is focused on the lived experiences of black people in the United States and their efforts to combat poverty, incarceration, inadequate schooling, unemployment and inferior health care. But it also speaks out against the privatization of natural resources.
"We seek democratic control over how resources are preserved, used and distributed and do so while honoring and respecting the rights of our Indigenous family," the platform says, a statement that's especially resonant as the fight over the Dakota Access Pipeline rages on. 
The platform also takes a strong stance in support of Palestinian liberation, one that earned them condemnation from some Jewish American groups in the United States. 
2. It took one year to write.
The platform took months to put together. Dozens of community-based organizations planned, met and drafted the policy proposal beginning in 2015, when the groups met in Cleveland for their first national convening.
3. More than 40 organizations came together to write it.
The Movement for Black Lives is a network of dozens of grassroots, including Black Youth Project 100, Dream Defenders and the Ella Baker Center for Human Righs and community organizations spread across the country. Its leadership is diverse and purposefully spread out. When it came time to write the policy platform, dozens of groups provided input as part of the Movement for Black Lives' policy forum. 
4. It goes way beyond criminal justice. 
The Movement for Black Lives earned its place in the country's political landscape by making the demand that "Black Lives Matter" in response to increasingly public police killings of black people. But the platform is wide-ranging and goes far beyond black people's interactions with law enforcement. It touches on everything from increasing federal support for historically black colleges and universities to divesting from the use of fossil fuels, which activists say poison black communities. 
5. Yes, it calls for economic reparations.
One of the more controversial parts of the platform calls for economic reparations for colonization and slavery. But the platform attempts to take those things from theoretical to tangible by spelling out exactly what the reinvestment of resources should look like. For instance, the platform calls for retroactive forgiveness of student loans and a guaranteed minimum wage for black workers.
6. It was released after the 2016 Republican and Democratic National Conventions — for a reason.
The platform was deliberately released on Aug. 1, just after the end of the Democratic National Convention in Philadelphia. That, according to organizers involved in the process, was intentional. 
"Because we're speaking radical and transformational change, not just minor tweaks to an existing system, that transformational change will be driven from the ground up," M. Adams, co-executive director of Freedom, Inc. and member of the Movement for Black Lives Policy Table leadership team, told Mic in August. "Therefore we're not only thinking about election cycles. We wanted to offer something that elevated and articulated a shared set of priorities that's connected to movements before this political moment and after this moment."
7. It's an exhaustive list of 40 policy recommendations. 
It's an exhaustive look at the hopes and goals of a generation of black organizers. Look for yourself.