Trump taps another general, nominating John Kelly for secretary of homeland security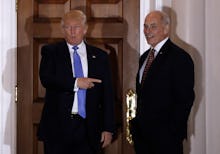 Marine Gen. John Kelly is President-elect Donald Trump's pick to be the next secretary of the Department of Homeland Security, CBS News reported Wednesday morning. Kelly is the third general Trump has tapped for his Cabinet, along with retired Lt. Gen. Michael Flynn as national security adviser and retired Gen. James Mattis as defense secretary. 
Kelly will oversee a range of federal agencies tasked with keeping the country secure and safe. If Trump follows through on his plan to build a wall or works to increase deportations, Kelly will play a key role in executing those directives. Kelly will oversee Immigration and Customs Enforcement, Transportation Security Administration, Citizenship and Immigration Services and Customs and Border Protection. 
Kelly is a moderate pick compared to some of the other potential DHS candidates. Trump met with Kansas Secretary of State Kris Kobach, a conservative who wants to impose extremely strict immigration rules, including implementing a registry of Muslims in the United States.
Until earlier this year, Kelly oversaw all U.S. forces in South and Central America. Along with Mattis, Kelly spent years in the Marines and led troops in Iraq. He was an aide to two of President Barack Obama's defense secretaries. 
Kelly's son died while fighting in Afghanistan in 2010. Kelly was neutral during the presidential election this year, saying he would serve either a Democrat or a Republican.