At trial, Dylann Roof presented as cold-hearted racist and a friendless outcast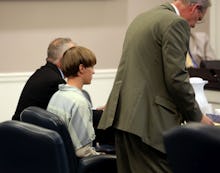 CHARLESTON, South Carolina — Dylann Roof, the accused killer of nine unarmed black churchgoers, has a "hateful heart."
That's how federal prosecutors described him Wednesday, at the open of the capital hate crimes trial against the 22-year-old. The avowed white supremacist meticulously planned his July 2015 massacre at Emanuel African Methodist Episcopal Church in Charleston and has confessed to the crime — which should leave no doubt about the extent to which he is guilty, Jay Richardson, the assistant U.S. attorney for the District of South Carolina, said in a packed courtroom.
Roof "mentally and physically prepared himself, conducting target practice [and] getting himself in the state of mind to do what he believed he had to do," Richardson said during opening statements at J. Waties Waring Judicial Center, the federal courthouse in Charleston.
"We will prove to you that the defendant's attack was cold and that he has a hateful heart," Richardson later added.
Amid post-election concerns about the normalization of white nationalism, the trial against Roof could give the public a rare look into modern homegrown hatred. Often, white nationalists and "alt-right" activists are publicly dismissed as social rejects clinging to a dying ideology that only flourishes on the internet. Roof, who prosecutors said authored a manifesto stating his desire to incite a race war, certainly seems to fit this description. But his defense team argued that he may have also been a misguided and friendless youth whose angst was ripe for exploitation.
Whichever is true — Roof as a cold-hearted racist or vulnerable loner — he killed nine people and nearly three others. That's a fact that not even Roof's defense team is prepared to dispute.
"You're going to want to understand who this person was and why he would cause so much hurt and grief," David Bruck, the lead attorney on Roof's defense team, told the jury. He said they need to try to understand him before they decide whether or not to put him to death.
Authorities allege Roof carried out the massacre at "Mother Emanuel" as an act of retribution for wrongs that he felt had been committed by blacks against whites. The historic black church was to be the flashpoint for a race war.
On the evening of June 17, 2015, Roof sat with parishioners for a nearly hour-long bible study session. The late Rev. Clementa Pinckney, pastor of Emanuel AME, implored Roof to pull up a chair next to him and offered him study materials, according to the prosecution's opening statements and a witness called to the stand on Wednesday.
As the bible study wrapped up and members bowed their heads in prayer, Roof opened fire, spraying as many as 77 bullets at attendees — and he was overhead telling one church member that he would keep her alive, so that she could report to others what he had done.
"He said, 'You're raping our women and taking over the world,'" said Felicia Sanders, a shooting survivor whose son, Tywanza Sanders, was killed in the massacre. Felicia, who was called as the first prosecution witness, shielded her then-11-year-old granddaughter and the two played dead until he was gone, she told the court in a heart wrenching testimony.
"There is no place on earth for him, except the pit of Hell," she later said.
In court, Roof's defense team told jurors their client is guilty of killing the nine people at Emanuel AME. For the guilt phase of the trial, Bruck said it was unlikely they would call many witnesses or ask very many questions in cross examination. But the attorney drew several sustained objections from the prosecutors, as he focused on the sentencing phase. Bruck asserted that Roof deserved mercy because of his disposition.
"The law errs on the side of life," Bruck said amid objections from the feds. "Our society does not order anyone to be put to death if there are reasons to chose life."