Jimmy Fallon Nintendo Switch demo reveals new 'Zelda: Breath of the Wild' gameplay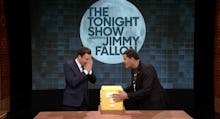 On Wednesday's episode of The Tonight Show Starring Jimmy Fallon, president of Nintendo Reggie Fils-Aimé joined a very enthusiastic Fallon on stage to show off Nintendo's newest projects: Super Mario Run, a sidescrolling Mario game coming to Apple devices Dec. 15, and Legend of Zelda: Breath of the Wild, a new open-world adventure game coming to Wii U and Nintendo's forthcoming handheld/console hybrid, the Nintendo Switch sometime next year.
Jimmy Fallon + Nintendo Switch: What more could you want?
Nintendo has shown Legend of Zelda: Breath of the Wild gameplay footage many times before, but Wednesday night's broadcast marked the first time it was shown running on the Switch (aside from a few glimpses in the official Switch trailer). The new console has more horsepower under the hood, which means it will likely be able to run more complicated games at a higher fidelity than the Wii U.
It was unclear what kind of a difference that might make, but it's pretty obvious now the Switch can render Breath of the Wild at a higher, smoother frame rate.
The clip starts with Fallon very excitedly playing Super Mario Run, but you can skip to the 4:50 mark if you want to see him just as excitedly play the Nintendo Switch.
To be fair, I'd probably be pretty giddy if Shigeru Miyamoto, the creator of Donkey Kong, Mario, and The Legend of Zelda was cheering me on from the studio audience, too.
More Nintendo news, updates, tips and tricks from Mic:
For more on Nintendo, check out Mic's latest, like rumors the Switch will be able to emulate Gamecube games, more Legend of Zelda: Breath of the Wild gameplay, speculation on an Android release date for Super Mario Run, and a review roundup of Super Mario Maker for the Nintendo 3DS.