Jim O'Neill, Trump's potential FDA head, thinks drugs should be approved without efficacy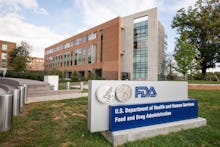 Bloomberg reported on Wednesday that President-elect Donald Trump's transition team was considering Silicon Valley investor and libertarian Jim O'Neill to spearhead the Food and Drug Administration. Critics note that the O'Neill, who is an associate of billionaire Trump-backer Peter Thiel, not only lacks the experience to run this federal agency, but also holds controversial views on drug safety. 
Over the last five decades, the FDA chief has either been a trained physician or a respected scientific researcher, according to Bloomberg. O'Neill, on the other hand, doesn't have a medical background. According to Forbes, O'Neill would also represent a conflict of interest because he has worked at Theil's Mithril Capital, a venture capital firm that has helped launch medical companies. Thiel is also a member of Trump's transition team. 
Like Trump, O'Neill has a penchant for making outlandish comments. He has called to create libertarian societies at sea, argued that people should be able to pay others for organ transplants and said that in a free market "you wouldn't be forced to subsidize obesity." But a quote from an August 2014 keynote speech he gave at the Rejuvenation Biotechnology conference has particularly angered the pharmaceutical community:
We should reform FDA so there is approving drugs after their sponsors have demonstrated safety — at their own risk, but not much risk of safety. Let's prove efficacy after they've been legalized.
In 1962, the Kefauver-Harris Amendments changed the 1938 Federal Food, Drug and Cosmetic Act, to require that drug manufacturers provide proof of effectiveness and safety before selling a product. The measures, which are still in effect, also require pharmaceutical companies to show information about side effects. At the time, Sen. Estes Kefauver (D-Tenn.) introduced the bill in response to the scandal involving the drug Thalidomide, which was marketed as a mild sleeping pill for pregnant people, yet it caused thousands of birth defects.
Peter Pitts, a former associate commissioner for FDA, told Forbes that O'Neill's lack of scientific experience could be "counterproductive and almost insulting." He added that FDA staff could see O'Neill as someone who is going to be very difficult to work with. "The way a commissioner succeeds even with a radical agenda is to get the buy-in of senior staff," Pitts said. 
O'Neill's views on free-market economics could also pose a hurdle for the broader responsibilities FDA has. The federal agency oversees food, medical devices, dietary supplements, tobacco and cosmetics, and it has a pivotal role in the pharmaceutical industry's research efforts. According to Bloomberg, at a 2009 conference O'Neil said that "because there's not a free market in health care, people are suffering very significant health consequences that in a free market they would not suffer." He added that a free market in health care would "drive prices much lower." 
It's unclear whether O'Neill will be selected. According to The Hill, Dr. Scott Gottlieb, a former FDA official and scholar for the American Enterprise Institute, is also under consideration.