Dylann Roof found guilty of hate crimes in 2015 murders at Charleston church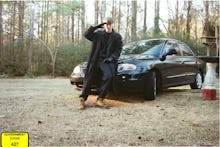 Dylann Roof was found guilty of hate crime charges stemming from the 2015 massacre at Emanuel African Methodist Episcopal Church in Charleston, South Carolina, that left nine parishioners dead.
On Thursday, a 12-person jury convicted the 22-year-old on all 33 charges related to the murders of eight "Mother Emanuel" members and their pastor, as well as the attempted murder of three others, during a bible study meeting on June 17, 2015.
The jury's next task is deciding whether he should receive the death penalty or a life sentence. U.S. District Court Judge Richard Gergel last week suggested the sentencing would take place in early January.
According to the reporters covering the trial from the federal courthouse in Charleston, the victims' family members were stoic and held hands as the jury foreman read the verdict. Meanwhile, Roof was standing and appeared emotionless as "guilty" was read 33 times.
In order to prompt the guilty verdict, federal prosecutors were tasked with proving that Roof's hatred of African-Americans was behind the attack that killed Sharonda Coleman-Singleton, Cynthia Hurd, Susie Jackson, Ethel Lee Lance, DePayne Middleton-Doctor, Clementa Pinckney, Tywanza Sanders, Daniel Simmons, Sr. and Myra Thompson.
They had to show that Roof, with malice, also attempted to kill shooting survivors Felicia Sanders and her 11-year-old granddaughter, as well as Polly Sheppard. Both Sanders and Sheppard provided witness testimony. They also had to demonstrate that Roof's decision to open fire constituted his obstruction of their exercise of religion. And, per the Matthew Shepard and James Byrd, Jr. Hate Crimes Prevention Act, they had to present evidence that Roof's use of a handgun involved interstate or foreign commerce.
Prosectors did that by having Sanders recount the words she heard Roof utter, stating his belief that he had to carry out the attack because black people had wronged whites. They showed graphic and gruesome crime scene photos that revealed the bloody aftermath of the massacre. They played videotape of Roof's unambiguous confession to FBI agents, read aloud entries in his journal and displayed self portraits that demonstrated how Roof became radicalized.
Federal prosecutors did that with little-to-no push back from Roof's attorneys, who said in their opening statements on Dec. 7 that their client was guilty.
In closing statements on Thursday, Assistant U.S. Attorney Nathan Williams focused on the premeditated and depraved nature of Roof's attack at Emanuel AME. "It's almost hard to believe someone could have such vast hatred to commit these horrible crimes," Williams said, according to WCSC-TV reporter Karina Bolster.
In his closing statements, David Bruck, the lead defense attorney for Roof, said it was important for jurors to consider the "why" of his client's actions and to consider that a lot of his client's racist ideas were influenced by hatred commonly found on the internet.
Each of the 12 jurors and 6 alternates chosen for the trial indicated in court that they had no moral reservations about imposing the death penalty, if they were asked to weigh Roof's fate.
Roof has opted to represent himself during sentencing. The move gives him the right to make his own statements and call his own witnesses, but leaves him without the aid of his defense, who during the trial attempted to call witnesses to speak to a possible debilitated mental health status.
Dec. 15, 2016, 4:46 p.m. Eastern: This story has been updated.