Here's what Muslim American parents are saying to their kids in Donald Trump's America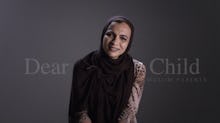 Muslim American parents are now giving their children "the talk."
The Jubilee Project, a storytelling digital media company, gathered parents to candidly give a message to their children about the challenges they will face as a young Muslim growing up in the United States.
"You're growing up in a time when hate, when bigotry, when prejudice has been legitimized," one mother said in the video. "Yeah, there are going to be times where you are called a terrorist." 
The result was a somber and emotional video of several parents from diverse backgrounds warning their kids about what they will hear about their faith while also reminding them that they should take pride in their identity both as an American and a Muslim.
"I was always afraid to share my identity, but I don't what you to be afraid of that," another mother said. "I want you to really look into yourself and see the light that is in you."
Taz Ahmed, one of the producers of the video, said it has garnered a lot of positive responses from viewers. The concept started in October, when several reports emerged that Muslim kids were being bullied across the country. When Donald Trump was declared president, Ahmed said the video's message reiterated its importance.
"There were so many people — and I had friends who are parents that were so shell-shocked [from the election results]," Ahmed said in a phone interview. "They didn't know what to tell their children and this video is amazing for that."
Sept. 11, 2001, abruptly changed the lives of millions of Muslims around the world. For Muslims living in the U.S., their identities swiftly shifted from being members of a community that helped build the fabric of this country to being viewed as believers of a threatening and hateful foreign ideology.
With President-elect Trump normalizing Islamophobic rhetoric, talks of a Muslim registry being orchestrated and anti-Muslim hate crimes rising, the new jihad — or struggle — for Muslims is simply just living in America. 
This video serves as a reminder for young people to take pride in their faith and their greatness.
You can watch the whole video here: