Trump gets a Christmas visit from Vladimir Putin in 'SNL' cold open sketch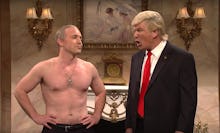 Saturday Night Live opened their Dec. 17 Christmas special with President-elect Donald Trump, played by Alec Baldwin, getting a special visitor at Trump Tower: Vladimir Putin.
In the sketch, Trump is preparing to spend Christmas with wife Melania, played by Cecily Strong, after catching up on the latest transition news with Kate McKinnon's Kellyanne Conway. Trump has only the highest praise for his latest cabinet nomination — Rick Perry as secretary of energy: "I saw him on Dancing with the Stars. This guy has so much energy, it's just unpresidented."
But the festivities get interrupted when he and Melania hear strange noises coming from the chimney and a red bag emerges. Is it Santa Claus? No — it's the Russian president.
"I was just in town," Beck Bennet as Putin explains. "You know — hiding in the walls."
As Putin goes on to offer his congratulations to Trump, it soon becomes clear just how much sway the Russian leader holds over the clueless president-elect, who is more concerned with his own ego than anything.
"We think you're the best candidate," Putin tells Trump, "the smartest candidate — the Manchurian candidate."
That reference is, of course, to the Cold War-era novel by Richard Condon and the iconic film, in which the Russian government brainwashes the son of a powerful U.S. family to do their communist bidding — a tale with some disconcerting parallels to the president-elect. But the allusion is lost on Baldwin's Trump, who responds, "I don't know what that means, but it sounds tremendous." 
Putin even arrives with a gift for Trump: an Elf on the Shelf, a Christmas toy inspired by the children's book character, who watches over children and reports back to Santa on their naughty or nice behavior. But Putin's more suspicious-looking doll — which he places right next to the internet router — clearly has a more sinister purpose.
"Vladimir," Trump apologizes, "I'm sorry, I didn't know you were coming so I do not have a gift for you."
"Please, Mr. Trump," Putin responds. "You are the gift."
Trump's position as a puppet for Russian interests becomes even more clear when he gets another visitor: Exxon Mobil Corp. CEO Rex Tillerson, Trump's proposed secretary of state and recipient of the Order of Friendship medal from Russia.
As old friends Tillerson and Putin reunite, they quickly get to work on their own oil drilling projects in Russia — and reveal how things may become easier once Trump is in the Oval Office.
"Oh that's no problem," Tillerson, played by John Goodman, responds when Putin explains some drilling problems. "As soon as the sanctions are lifted, we'll up our intake by 30%."
Trump, now the oblivious third wheel, of course has some ideas of his own. "And then we destroy Vanity Fair, right?" he asks. "They're a terrible publication, really just terrible."
"Sure buddy," Tillerson dismisses, turning back to Putin. "Sure."