Will Michelle Obama run in 2020? Here is the first lady saying no over and over again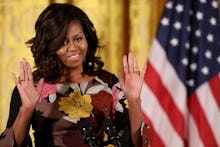 A great many people would like Michelle Obama to run for president in 2020.
Super PACs have formed to urge the first lady to run in four years. Vegas has her as the odds-on favorite among Democrats to win. And the internet has called on her to run using the hashtag #Michelle2020.
So what does FLOTUS herself have to say on the matter?
"No."
In a recent exit interview with Oprah, Obama explicitly said she would not run for president — and that she wasn't just saying so to be "coy."
Okay. But what if someone just shouted out "run for president" as she was about to speak at a White House event for veteran homelessness?
"Be quiet back there."
Well, that didn't work. Suppose we ask her at South by Southwest?
"I will not run for president."
"No, nope, not gonna do it," she said.
Well, that settles it. But wait! This is a long shot, but suppose we get a couple of little kids holding a puppy to ask her? 
"No, I'm not gonna run for president."
"... What I want to make sure you do is that you go to school, you get good grades, because we're looking to you to possibly be a president one day, too," said the first lady. "But you can't do that if you don't study and do your homework and listen to your parents. But we're out."
Alright, sounds like she has made up her mind. Unless POTUS has anything to add? 
"Michelle will never run for office."
"She is as talented a person as I know," Barack Obama told Rolling Stone in November. "You can see the incredible resonance she has with the American people. But I joke that she's too sensible to want to be in politics."
So what will Michelle Obama do after leaving the White House?
She hasn't announced any definitive plans, but has indicated she will continue working on the initiatives she began as first lady and will likely pen a book.