'Sherlock' Season 4: How will "The Six Thatchers" death affect the series?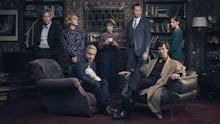 Sherlock returned New Year's Day with a largely stellar first episode of season four. While fans were no doubt hoping to see whatever nefarious plan Moriarty had in store for Holmes, the series went in a different direction for "The Six Thatchers." As it turns out, the first episode of season four was not so much about Sherlock or John, but rather, Mary Watson. 
(Editor's note: Spoilers ahead for season four, episode one of Sherlock.)
Sherlock and John learned in the final episode of season three, titled "His Last Vow," that Mary Watson had a rather interesting past — she was formerly an assassin. Well, that past caught up to her in "The Six Thatchers," as one of her former partners was convinced that she betrayed him. 
Towards the end of the episode, we learn that both Mary and her partner were betrayed by a secretary in British intelligence. And in the final confrontation, after Holmes went a bit too far explaining the secretary's jealousy-driven motivations, Mary jumps in front of a bullet intended for the irreverent Sherlock. 
What follows is an emotional Mary explaining to John, while dying in his arms, that being his wife was the only life worth living. 
How will Mary's death affect Sherlock's relationship with John?
It appears that John and Sherlock's relationship is going to be quite fractured going forward. After Mary's death in "The Six Thatchers," Holmes is turned away when he shows up at Watson's residence to offer help taking care of Watson's newborn. 
Mary will continue to play into the narrative via a posthumous message she leaves for Holmes. Towards the latter moments of episode one, Sherlock receives a disc with "Did you miss me?" written on the front. Of course, Sherlock assumes this is from Moriarty. 
Rather than finding Moriarty on his computer, Sherlock discovers a prerecorded message from Mary, to be played in the event of her death. In it, she gives Sherlock a case: To "save John Watson." The message ends with her telling Sherlock to "go to Hell."
It is probably safe to assume that is a clue/message and not Mary using her last words to tell Sherlock how she really feels. According to USA Today, one fan thinks she could be sending Sherlock to Hell, Norway.
Since Amanda Abbington, the actress that plays Mary Watson, is listed in the credits for episode two, "The Lying Detective," it is reasonable to assume her message will play some role next week.
Mary's death was a long, long time coming
Fans of Sherlock's stories were likely not too surprised, as Mary Watson does perish in Sir Arthur Conan Doyle's works. Steven Moffat, one of the series' creators, told Newsweek, Mary's death was a "120-year-old spoiler." 
Moffat explained to Newsweek that they were always going to stick with Doyle's blueprint that sees Mary die. "My problem with that is: does Mary then subside into nothing, as the wife that lets John out to play?" he queries. "In the end, Doyle discovered that you always want to cleave back to the two boys in Baker Street. So it's better to have a great part for Mary, give her a heroic role, and then get on with what is going to be the format."
While Mary did die in heroic fashion, John still very much blames Sherlock for her death. Still, the "two boys in Baker Street" will have to get back on the same page soon if they are to defeat Culverton Smith, the main antagonist in episode two. One last string to look out for is how heavily John's guilt may weigh on his conscience. As we learn in "The Six Thatchers," he was conducting a flirtatious texting chat with a woman he met on a bus. 
Certainly, there is a lot to look forward to in season four, episode two of Sherlock.
Sherlock airs on PBS on Sundays. Check out local listings for times. Catch episode two of season four on Sunday, Jan. 8.
Mic has ongoing Sherlock coverage. Check out the main Sherlock hub here.