The Golden Globes show Trump's America is not the future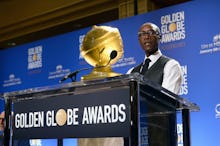 When Moonlight writer and director Barry Jenkins spoke to the Los Angeles Times about his breakout film's six Golden Globe nominations, he noted that the recognition sends a powerful message of inclusiveness in a country divided by Donald Trump's election.
"In this post-election world, it's really this beautiful snapshot of what America is right now," Jenkins said in December. "It's not just a monolith — I think that's the biggest statement."
With at least 20 nominees of color, this year's Golden Globes, which air Sunday, represent the most racially diverse roster in the show's 74-year history. Headliners include Denzel Washington for the film adaptation of Fences, Mahershala Ali for his performance in Moonlight and Octavia Spencer for her role in Hidden Figures.
The diversity of the Golden Globe lineup underscores a deep irony about modern America: Our popular culture — movies and television in particular — is growing more representative of the country's rapidly changing demographics while our political establishment does the opposite. As Trump assumes the presidency with a cabinet of white supremacist-courting, LGBTQ-hating, tough-on-crime-loving, climate change-denying appointees in tow, stories made by and aimed people of color are getting more mainstream attention than ever before.
Whether you call Trump's election a "backlash," a "whitelash" or a "revolt," don't call it the future. His ascent isn't proof that America's long march toward racial justice has stopped in its tracks. Instead, as Race Forward President Rinku Sen wrote in the Nation after last year's election, "Backlash only exists when we are making progress. So let's keep going." 
Historically, cultural change has often preceded political transformation. Jackie Robinson broke through baseball's color line in 1947 years before segregation was ruled unconstitutional. Ellen DeGeneres came out as a lesbian on her sitcom in 1997 long before the repeal of laws like "Don't Ask, Don't Tell" and the passage of marriage equality.
The representation of communities long relegated to America's margins is a political act. "A lot of what we know about ourselves as a people, as a nation, as as society is communicated to us through the images we see in media," said Darnell Hunt, a sociologist who directs UCLA's Bunche Center and studies racial and gender diversity in Hollywood. At a time when America seems more politically stratified than ever, Hollywood pushes us to see our common humanity.
Slowly but surely, Hollywood is learning that the industry's survival depends on it. Casey Bloys, HBO's director of programming, is proud of the success that shows like his network's hit Insecure about a Los Angeles black woman's travails in love, life and career, have had recently, and thinks it's instructive for others. "Everyone's a lot more aware that it's great to break new voices and new talent," Bloys said. "It's good for our bottom line." That bottom line is simple: The people who are watching TV and paying for movies want to see stories and characters to which they can relate. Latinos go to the movies more often than any other ethnic group relative to their population, according to the Motion Picture Association of America.
But while this year's Golden Globe nominees are among the most diverse ever, Hollywood still has a long way to go. In an examination of 163 feature films from 2014, researchers at UCLA found that found that only 12.9% of lead roles went to people of color. On television, actors of color made up just over 8% of lead characters.
For Hunt, what happens behind the camera is arguably more important. "It all starts with the writing," he says. "If writers who aren't people of color are trying to tell stories of people of color, what types of stories are they going to tell? Are they going to tell stories that are demeaning? This is how communities of color get upset because they're maligned on screen."
The Academy of Motion Picture Arts and Sciences is 77% male and 94% white, according to the University of Southern California's Critical Media Project. In film, only 9.6% of women received writing credits in 2014. On television, writers of color made up 9.7% of those credited for broadcast scripted shows on television in 2013-2014. 
Last year, the hashtag #OscarsSoWhite, coined by Twitter critic April Reign, became a rallying cry for viewers and artists alike who were fed up with Hollywood's deeply entrenched preference for written, created and geared toward white male audiences.
It sparked an unprecedented response from Hollywood's heavyweights. Early in 2016, the Academy of Motion Picture Arts and Sciences, which votes for the year's best films, filmmakers, and actors, promised to diversify its membership by 2020. "The Academy is going to lead and not wait for the industry to catch up," Academy President Cheryl Boone Isaacs said in a statement at the time. "These new measures regarding governance and voting will have an immediate impact and begin the process of significantly changing our membership composition."
Slowly, the industry is changing — and audiences love it.
"We're always looking for voices that aren't out there," Bloys said, who noted that the search will be especially meaningful in the upcoming Trump presidency. "It's always exciting to feel like you're putting a voice or a view on TV that hasn't been done in an authentic way, but I want artists to take the lead."