Dylann Roof Sentencing: Live tweeting the death penalty trial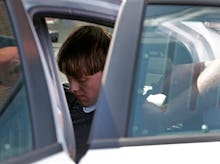 CHARLESTON, S.C. — Acting as his own attorney, Dylann Roof is expected to speak at length in open court Wednesday, for the first time since a jury convicted him in the 2015 murders of nine black churchgoers in Charleston, South Carolina.
Roof, who faces the death penalty or life imprisonment over violent hate crimes committed at the Emanuel African Methodist Episcopal Church on June 17, 2015, planned to deliver opening remarks on his own behalf and function as his own attorney throughout witness testimony. 
But his movements in the courtroom will be restricted: He is not to approach the jury box, the witness stand or the judge's bench, according to a court order obtained by Mic. He may still exercise the right to cross examine prosecution witnesses, which could include relatives of Rev. Clementa Pinckney, Sharonda Coleman-Singleton, Cynthia Hurd, Susie Jackson, Ethel Lee Lance, DePayne Middleton-Doctor, Tywanza Sanders, Daniel Simmons Sr., and Myra Thompson — the nine people he killed at Emanuel AME.
The same jury that found him guilty Dec. 15 on 33 federal charges, including hate crimes resulting in death and obstructing the exercise of religion, has been called back to weigh his fate. 
The government planned to call at least 30 witnesses, prosecutors indicated during a pre-trial conference in late December. However, Roof said he will not call witnesses or present any evidence that could save his life.
Mic senior staff writer Aaron Morrison is in Charleston and livetweeting from the courthouse. Follow along below: