Dylann Roof Sentencing: "There's nothing wrong with me psychologically"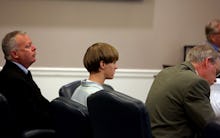 CHARLESTON, S.C. — In federal court Wednesday, and acting as his own attorney, Dylann Roof spoke at length publicly for the first time since being convicted of murderous hate crimes over the 2015 deaths of nine black churchgoers in Charleston.
But instead of offering an explanation for why he gunned down members of Emanuel African Methodist Episcopal or giving the jury mitigating factors to save him from being put to death, Roof mumbled through a brief opening statement in the death penalty phase of his trial.
He said it was "absolutely true" that he'd fired his lawyers and chose to self-represent to keep them from presenting evidence of his having a mental illness. "It isn't because I have a mental illness that I don't want you to know about," he said. "It isn't because I have a secret."
Later, he stated: "Other than the fact that I trust people that I shouldn't ... there's nothing wrong with me psychologically."
Roof's remarks lasted for about four minutes, far shorter than the opening statement given by federal prosecutors. The U.S. attorneys arguing that Roof should be put to death told jurors that what they'll hear from witnesses and see in new evidence will make Roof's crimes appear "worse" than before.
"This case is worse because of the reason he killed those people," Assistant U.S. Attorney Nathan Williams said during the opening statement. "He killed them because of the color of their skin."
Roof was found guilty Dec. 15 on 33 charges that he entered Emanuel AME on June 17, 2015, during a bible study session, and opened fire on attendees because of their race. Roof's attorneys did not put up much of a defense for the client, offering that their client was indeed guilty of the charges.
But they wanted the opportunity to prove to the jury that mitigating factors, like his mental health status, should save him from being sentenced to death. On Wednesday, Roof asked jurors to pay those attempts no mind.
"If you happen to remember anything that my lawyers said ... I ask you to forget it," he said, concluding his statement.
Following opening statements, federal prosecutors began going through a list of more than 30 victim witnesses. Jennifer Pinckney, the widow of the late Clementa Pinckney and mother of their two young girls, took the stand first and recalled her husband as a "voice of the voiceless."
Jennifer Pinckney's testimony was followed by her late husband's childhood friend, the Rev. Kylon Middleton, and his state senate colleague Gerald Malloy.
The day's testimony was capped by gut wrenching account from the Rev. Anthony Thompson, whose wife, Myra Thompson, led the bible study session that Roof opened fire on. Anthony told jurors he and Myra were planning to relocate to Charlotte, North Carolina, where he would take up pastoral duties and where she could be closer to her grandchildren.
"My world is gone," he said, at points sobbing through his words. "I literally did not know what to do. Because everything I did was for her. If she's gone, then what am I here for?"
Jan. 5, 2017, 9:27 a.m. Eastern: This story has been updated.