Frank Ocean's mom takes Kim Burrell to task for homophobic remarks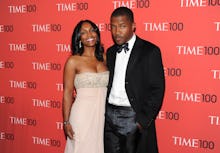 Katonya Breaux, mother of sexually fluid R&B singer Frank Ocean, is calling out gospel recording artist Kim Burrell for her homophobic comments, who is featured on Ocean's latest album, Blonde.
"Me: Son, can we drop Kim Burrell's voice out of your song??" Breaux tweeted on Tuesday, amid outrage that ultimately led Ellen DeGeneres to cancel Burrell's scheduled appearance on her show.
The tweet came after footage of a sermon posted on YouTube and circulated widely on Tuesday, Burrell called homosexuality "the spirit of delusion and confusion." She continued:
That perverted homosexual spirit, and the spirit of delusion and confusion, it has deceived many men and women, and it's caused us pain on the body of Christ.
Breaux didn't stop by just asking her son to drop Burrell. She went in on the singer's hypocrisy, tweeting, "I mean damn. Hypocrisy and the inciting of hate pisses me off. Opportunistic & ?%#!!"
Ocean has established himself as one of the most dynamic artists of his generation, a title that's due at least in part to his openness about his sexuality. He wrote on Tumblr shortly before the release of his 2012 debut album Channel Orange that his first love was a man. Two years before that, he had also taken to Tumblr to write about his relationship to Christianity and the importance of the black church to his development as an artist. 
"Church was the hood Juilliard to me. All the coldest musicians came out of there," he wrote. At the top of the post he'd added a video of Burrell singing the gospel classic "Home" and added a note of praise, "The lady in the video ... summa cum laude."