Ruben De Los Santos: What to know about the North Carolina officer who threw teen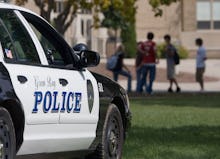 A video posted on Tuesday by Twitter user Ahunna showed a North Carolina police officer throwing a female high school student to the ground. 
The Twitter user who posted the clip tweeted that the violent act occurred amid a fight between two other people. 
The police officer who threw the student down has been identified as Ruben De Los Santos by the News and Observer. Here's what we know about him so far. 
De Los Santos is a school resource officer 
WABC reported Tuesday that De Los Santos is a school resource officer at Rolesville High School, where the incident took place. Rolesville Mayor Frank Eagles stated on Tuesday that De Los Santos was assigned to the school when it opened in 2013, and has been there ever since. 
According to CNN, a 2013 Congressional Research Service report states SROs have the same training and capabilities as any other member of the police department, but are also meant to be thought of as a "problem-solver and liaison." 
He was put on administrative leave following the incident
According to the Washington Post, De Los Santos has currently been put on paid administrative leave and the incident is under investigation. Rolesville Police Chief Bobby Langston said in a statement that the Rolesville Police Department will "work diligently" to review all the available information in order to provide "an accurate account of the events." Mayor Eagles confirmed this statement in an interview with WTVD. 
In a statement on the school's website, Rolesville High Principal Dhedra Lassiter said she was "deeply concerned" by what she saw in the video. 
"The safety of our students is always our first priority," the statement said. "Our school district works with many dedicated officers who protect our students. It is vital that our children have a positive relationship with these law enforcement officials. Those relationships are built on mutual respect."
SROs at Rolesville have body cameras
A second video of the altercation appears to show the fight that allegedly led up to De Los Santos' involvement with the student. 
According to Mayor Eagles, as reported by WABC, "All officers were given body cameras in August." Body camera footage of the alleged incident has not been released.