Ed Sheeran drops "Castle on the Hill" and "Shape of You," internet erupts in a meme frenzy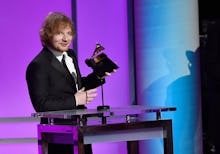 After taking a year to unplug from his phone, social media and e-mails — because self-care is important — British singer Ed Sheeran shared his two new singles "Castle on the Hill" and "Shape of You" at 12 a.m. Eastern time Friday. The tracks are available to stream on Spotify and Tidal and to download on Apple Music. 
Sheeran shows two sides to his musical personality on the tracks. "Castle on the Hill" is Sheeran reminiscing on the childhood pastimes of his native Suffolk, U.K. He longs to return to the good old days although he and his friends are all grown up. "I've shot the music video actually in Suffolk and the cast of it are people from my high school," he revealed to BBC Radio 1. 
He switches from introspective to provocative on "Shape of You," a light rhythmic bop about his obsession with a woman's frame. The song was written with Rihanna in mind. "But then I was singing some of the lyrics and was like Rihanna is not going to sing these words so kept it to myself," he said.
Sheeran made an official announcement about his new music via his social media pages on New Year's Day and many fans thought they were going to get his new album, presumably titled Divide, after he tweeted out the division symbol around the promotion of the new sounds. Fans were still happy with the two songs gifted this morning and gave their passionate feedback on Twitter. Read some of the hilarious gratitude below:
In 2015, Sheeran took his acoustic guitar-led tracks and soft delicate melodies to new heights. His popular love song, "Thinking Out Loud," was a high-charting single on the Billboard Hot 100 and was awarded song of the year at the Grammy Awards in 2016. He also accomplished other cool singer dreams, such as getting to perform with Beyoncé and Gary Clark Jr. for the Grammys tribute to Stevie Wonder.
After several years on the music grind, Sheeran told his fans in December 2015 via a screenshot note that he was going to spend some time away to "travel the world and see everything I missed." A couple of months before the break, he confirmed to Rolling Stone that he might be visiting Africa to seek some inspiration for future music. 
I don't know who told people that. There's definitely a press leak in my team somewhere. But it's true. I know a load of Ghanaian musicians in London, and they've always told me to go over there. I feel like I'd go there and be revitalized. Their music industry isn't like our music industry. Our music industry is really cutthroat and people trying to climb on top of each other to get to the top. They just do it to create music because they love it. theme on the next album is yet because I haven't made it.  
Until Sheeran is ready to give us the full album, "Castle on the Hill" and "Shape of You" will hold down our anxious ears.