Viola Davis finally getting her Hollywood star is the epitome of black girl magic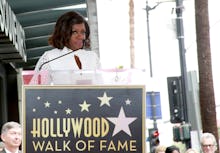 All it took was more than two decades of professional acting, one primetime Emmy, three Critics' Choice awards, two Tony awards, five Golden Globe nominations, and two Academy Award nominations, but Viola Davis finally has her star on the Hollywood Walk of Fame. And she's pretty excited, can't you tell?
By her own admission, she's come a long way. In a speech she gave in Hollywood on Thursday, Davis talked about how shy she was as a child. Looking at the only photo she has of herself from her childhood, from kindergarten, Davis remarked: "She was always shy, she was always kind of in the background, but inside she had big dreams bursting."
With her latest achievement, Davis says she has more perspective as she looks back on how far she's come. "And the only thing I could think about is that saying, 'What the caterpillar calls the end of the world, the master calls the butterfly."
Congrats!