Colin Kaepernick donated his massive shoe collection to Bay Area homeless shelters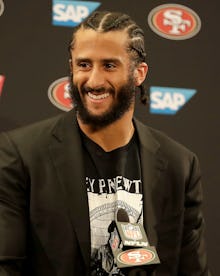 Long before he was known as a world famous activist-athlete, NFL quarterback Colin Kaepernick was known for something else: his massive shoe collection. Now, fresh off his latest football season, Kaepernick's taken a huge step by donating tons of shoes to Bay Area homeless shelters.
Kaepernick had hundreds of pairs of shoes. 
His collection was so big at one point that he converted his garage into a shoe closet.
Kaepernick donated the shoes, along with clothes and books, to Bay Area homeless shelters and orphanages shortly after his season ended with the San Francisco 49ers.
Here he is at Berkeley's Men's Shelter:
The holiday season may be over, but Kaepernick is still in a mood of giving.