Hillary Clinton probably won't run for any office ever again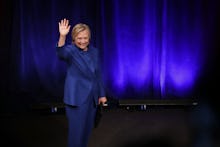 Rumors that Hillary Clinton might run for mayor of New York later this year were quickly shot down by Neera Tanden, Clinton ally and the president and CEO of the Center for American Progress. On CNN's State of the Union with Jake Tapper, Tanden said, "I don't expect her to ever run for any elected office again."
"I think she's going to figure out ways to help kids and families," Tanden said. "That's been what she's been focused on her whole life, and a lot of issues that are affecting them, over the next couple of years."
The New York Times reports that the rumor quietly sprang up in conservative and liberal circles following the 2016 presidential election, but "grew louder among the conservative media outlets and pundits who hold her and [New York City Mayor] de Blasio in disdain."
A poll conducted in December found the mayor of New York City struggling with approval ratings – 51% of New Yorkers approve while 36% disapprove – making the case for a fellow Democrat like Clinton to successfully run against the incumbent mayor.
CNN notes that were Clinton to run for mayor, not only would it be a complicated step down from her positions as secretary of state, first lady and New York senator, but it would "put her on another collision course with President-elect Donald Trump."
Notes Errol Louis, host of Inside City Hall, in an op-ed for CNN: 
Nobody in her right mind – certainly, nobody as familiar with the workings of government and politics as Clinton – would lightly take on the headaches of the nation's largest city for such nakedly political reasons. And while Clinton isn't likely to seek another shot at higher office, she's surely aware that serving at City Hall has been a frustrating, career-ending feat for one promising politician after another.