Meet the black woman who will run from NYC to DC to raise money for Planned Parenthood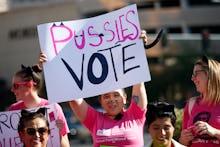 The Republicans' plan to defund Planned Parenthood along with repealing the Affordable Care Act won't come without a fight — or a long, frigid run.
Alison Mariella Désir is a New York City-based running coach and founder of the Harlem Run running group. On Jan. 16, she's teaming up with at least three other women to run 240 miles over five days from New York City to Washington, D.C., to raise money for Planned Parenthood. Just so it's clear: That's the equivalent of running two New York City marathons each day.
Désir hopes to raise $44k to support Planned Parenthood, an amount that honors the 44th president, Planned Parenthood ally Barack Obama. Less than a week out from the start of the run, she's already brought in close to $30,000, according to her GoFundMe page. 
"It's no secret that this incoming administration and Congress have a target on women's right to choose and women's health," she wrote on her GoFundMe page. "There will never come a time that I look back and wonder, 'What could I have done to protect that right?'"
As of Jan. 6, more than 100 women had reached out hoping to take part in the run, leading Désir to change it to a relay to allow as many women as possible to participate and even sign up along the way.