Golden Globes 2017: Jenna Bush Hager apologizes for 'Hidden Fences' gaffe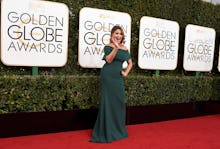 Sunday night's Golden Globes was one of the most racially diverse in the show's 74-year history -- which makes presenter and former first daughter Jenna Bush Hager's conflation of Hidden Figures and Fences, two of the year's most important black films, all the more important.
Hager works as an NBC News correspondent and made the gaffe while interviewing Pharrell Williams, who produced and worked on the musical score for Hidden Figures, a film based on the contributions of three black female mathematicians who helped NASA launch John Glenn into space.
On Monday, Hager made an appearance on NBC's Today to apologize:
"I had an error in the night, which I have to apologize for," Bush Hager told NBC's Natalie Morales and Al Roker. "When I was interviewing the incomparable Pharrell, who I adore, I accidentally — in the electricity of the red carpet, which I have never done before — I called Hidden Figures 'Hidden Fences.' I have seen both movies. I thought they were both brilliant. I have interviewed casts from both of the movies. If I offended people, I am deeply sorry. It was a mistake, because you all know, I am not perfect. I am authentic but a human. What I didn't want to do is make anybody feel lesser than who they are. So, anyway, I hope... I apologized to both the cast, to Pharrell, but it was a mistake and I hope we can all move on."
Hidden Figures stars Octavia Spencer and Janelle Monáe accepted her apology on Twitter:
But on Sunday night, several celebrities and Twitter users pointed out the irony of Bush Hager's mistake:
And Twitter even had a little fun by mixing up the names of iconic black films:
Sure, we all make mistakes. But Bush Hager's mistake serves to highlight just how often white mainstream industries overlook or confuse black contributions. And then there's the ultimate irony: A film about the erasure of black women was erased at an event meant to celebrate its achievement.