There are 10 things Dylann Roof doesn't want to hear at his sentencing. "Evil" is No. 1.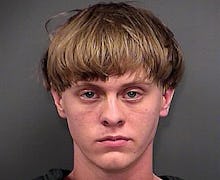 On Tuesday, closing arguments are expected in the sentencing phase of Dylann Roof's hate crimes trial.
And Roof — who was found guilty in December on 33 charges for killing nine black churchgoers at Emanuel African Methodist Episcopal Church in Charleston, South Carolina — just produced a list of words and phrases he doesn't want to hear pass federal prosecutors' lips. 
Included on the list: "evil," "pit of hell," "hate," "God," "closure" — and references to what Roof himself wrote about, say, "Hitler."
The utterances Roof would rather not have prosecutors say appeared in a court filing by the 22-year-old convicted killer on Monday afternoon. 
Since Roof isn't expected to give a closing statement, jurors will only hear from prosecutors tomorrow — and could even start deliberating about whether to sentence the infamous white supremacist to death or only life to prison.
"This motion is in anticipation of closing arguments to prevent unfair and unconstitutional comments by the government that may unfairly prejudice the jury," Roof, who is functioning as his own attorney, wrote in the motion. "I object to the following comments (or comments like them)."
Here's the list from Roof's motion:
Objecting to the motion, federal prosecutors argued such a restrictive list — most of it pertaining to the ways one might characterize Roof as a person — would make closing argument nearly impossible, according to tweets from reporters covering the trial in Charleston.
It's unclear if U.S. District Judge Richard Gergel granted Roof's motion in total, but he reportedly advised prosecutors to focus on characterizing Roof's actions and not "who he is."
Following the last of testimony from victim impact witnesses — family members, friends or coworkers of the nine victims killed — Roof declined to mount a defense, the Charleston Post and Courier reported.
The jury — made up of nine white jurors and three black jurors — that found Roof guilty on Dec. 15, will deliberate after having heard more than two dozen witnesses and seen evidence which showed the 22-year-old convicted killer as unrepentant.