Dylann Roof Sentencing: In closing argument, killer says "I felt like I had to do it"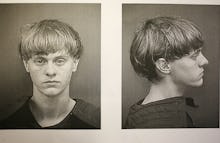 On Tuesday, convicted killer Dylann Roof told a jury weighing his fate that he still feels he had to commit the 2015 murders of of nine black churchgoers in Charleston, South Carolina. 
"I didn't have to do it. I didn't have to do anything," Roof reportedly said in chilling closing arguments during his sentencing trial. "I felt like I had to do it. And I still feel like I had to do it."
In the five-minute statement, he also questioned whether those who have accused him of rank racial hatred truly understand what "real hate is."
"If I was really filled with as much hate as I allegedly am, wouldn't I just say I don't like black people?" Roof reportedly said.
Roof also reminded jurors that it would only take one of them to vote against giving him the death penalty, which would mean he'd spend the rest of his natural life behind bars.
Roof was found guilty on Dec. 15 of opening fire on attendees of a Bible study session at Emanuel African Methodist Episcopal Church because of their race. The jury that listened to Roof's closing arguments, as well as those from federal prosecutors, is expected to begin deliberating whether to put him to death or imprison him for life.
Ahead of his closing arguments on Tuesday, Roof presented no witnesses of his own. Meanwhile, the prosecution called more than two dozen victim impact witnesses — family members, friends and coworkers of the nine people Roof killed at Emanuel AME on June 17, 2015.
Roof submitted no evidence in to the record. He only asked that, in closing arguments, the federal government not use the words "evil" and "hate," among others, which might prejudice the jury against him.
Assistant United States Attorney Jay Richardson, who delivered the prosecution's closing arguments, reportedly told the jury that the death penalty was the only just consequence for Roof, who had proven to be unrepentant about his crimes.
U.S. Judge Richard Gergel charged the jury, made up of three black jurors and nine white jurors, following the closing arguments from Roof and Richardson. In the guilt phase, it took the jury a little more than two hours to convict him on all 33 federal charges.