Solange was interviewed by Beyoncé and gave powerful tips to women in the workplace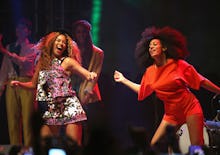 Solange chatted with big sister Beyoncé in the latest edition of Interview and dropped some gems on making her hit album, A Seat at the Table, growing up in Houston and even Real Housewives of Atlanta. But one takeaway that stands out is how the singer opened up about the importance of women in general, and black women in particular, taking ownership of their work.
On controlling every aspect of her creative process, from songwriting to treatments for music videos:
...our mother always taught us to be in control of our voice and our bodies and our work, and she showed us that through her example. If she conjured up an idea, there was not one element of that idea that she was not going to have her hand in. She was not going to hand that over to someone. And I think it's been an interesting thing to navigate, especially watching you do the same in all aspects of your work: Society labels that a control freak, an obsessive woman, or someone who has an inability to trust her team or to empower other people to do the work, which is completely untrue.
On writing every lyric on the album:
One thing that I constantly have to fight against is not feeling arrogant when I say I wrote every lyric on this album. I still have not been able to say that. That's the first time I've actually ever said it, because of the challenges that we go through when we celebrate our work and our achievements. I remember Björk saying that she felt like, no matter what stage in her career, if a man is credited on something that she's done, he's going to get the credit for it. And, unfortunately, that still rings true. It's something I've learned so much about from you, getting to be in control of your own narrative. 
A Seat at the Table is unapologetically black, and the entire interview is worth reading to see how exactly it came together at such a pivotal political moment in U.S. history. Take a read of the full Interview article here.