Jeff Sessions hearing: What we learned from Trump's attorney general in the Senate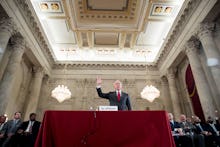 Mr. Sessions stays in Washington
"You know that I believe in fairness, impartiality and equality under the law," Jeff Sessions told the Senate Judiciary Committee in his opening statement Tuesday morning. Amid accusations by Democrats and civil rights groups that the Alabama senator has a racist past and a history of prejudiced votes, Trump's nominee for attorney general stood steadfast.
Sessions painted himself as a moderate who will stand up to Trump, deferring to the president-elect on topics like torture and federal investigations. He repeatedly said views he expressed as a senator would not determine his course of action while enforcing U.S. laws.
Notably, Sessions said he will recuse himself from any investigation involving Hillary Clinton. "We can never have a criminal dispute turn into a political dispute," Sessions said. "This country does not punish its political enemies, but it ensures no citizens are above the law." During the presidential campaign, Sessions was among the leading critics of Clinton's use of a private email server. (Sessions later sidestepped a question about whether he would appoint a special prosecutor to investigate whether Trump or his family breaks federal law aimed at preventing conflicts of interest.)
In a presidential debate, Trump said he would ask his attorney general to appoint a special prosecutor to investigate Clinton. In July, Sessions said, "I don't have any expression" on whether Clinton should be in jail, a common refrain at Trump campaign rallies.
Sessions told his colleagues that he would focus on fighting increases in crime, drug trafficking and corruption and would not be a "rubber stamp" to policies pushed by a Trump administration. The senator said he will "faithfully, effectively and impartially" execute the law and, in a nod to criticism he will not support the rights of minorities, added: "No American is above the law, and no American is beneath its protection." The Republican directly addressed claims he has sympathized with the Ku Klux Klan. "I abhor the Klan," Sessions said, "and its racist ideology" — noting his time spent securing the death penalty for a Klansman in the murder of a young black man in Alabama. 
Sessions said he would not support any law that banned people from immigrating to the United States because they are Muslim. He also opposed a return to the use of waterboarding, breaking with Trump.
Senators also asked Sessions about his views on online pornography, sex trafficking, rape on tribal reservations and deference to the White House.
This is Mic's read on Donald Trump's America -- and how it affects you. Welcome to the political newsletter that doesn't give a 20-minute opening statement. This is a special, cabinet hearing-focused edition of Navigating Trump's America.   
Democratic opposition
In his opening statement, Sessions also attempted to defuse the expected onslaught of questioning from Democrats about his history as an attorney in Alabama. But his opponents were relentless.
Sen. Dianne Feinstein grilled Sessions on several hot topics, including abortion and same-sex marriage, making the Alabama senator commit to enforcing Roe v. Wade and the Supreme Court decision on same-sex marriage. Sen. Patrick Leahy, a Vermont liberal, criticized Sessions' assertion that he supported the Violence Against Women Act. The two sparred over specifics, with Sessions saying he opposed a version of the bill because of particular provisions — not because he disagreed with the law overall.
Later, Sen. Dick Durbin pushed Sessions to say how he would handle President Barack Obama's Deferred Action for Childhood Arrivals policy. DACA allows two-year renewable work periods for people who entered the U.S. before they were 16. Durbin noted revoking the program could affect more than 800,000 undocumented people. Sessions says it would be constitutional to end the program. Other senators criticized past comments and positions Sessions has taken that oppose immigration.
Facing questions about ballot access, Sessions said he supports current voter ID laws that have been decried by Democrats as targeting minority voters. He added that such laws do not appear to disproportionately impact, suggesting he will not push cases against overreaching voter ID laws. But as attorney general, Sessions said, he will re-evaluate these laws to better understand their impact on access to voting. Sen. Al Franken accused Sessions of inflating his record on civil rights in the questionnaire he filled out and submitted to the committee.
Protests during the hearing
The hearing was interrupted at least seven times by protesters. A Code Pink protester and two men chanting "No Trump, no KKK, no fascist USA!" were escorted out of the hearing early on. Others said Sessions is supported by "hate groups." Some protesters before the hearing were dressed as KKK members and shouted inside the Capitol. And Black Lives Matters protesters also interrupted Sessions' hearing. (Mic)
Meanwhile, the ACLU is planning extraordinary opposition to Sessions' confirmation as attorney general. (Mic)
In short: Sessions held his ground and batted back accusations he has a troubling history on race. The Alabaman said he had seen the wrongs of discrimination and has always worked toward equality — a contention Sessions' opponents vehemently challenge. He also described himself as cautious and fair, a break with a record built on being one of the Senate's most conservative members. Above all, Sessions said it would not be his job to make policy — rather, he views the attorney general's role simply as enforcement the law.
Navigating Trump's America will cover the hearings all week, in this space and at mic.com/navigatingtrumpsamerica.
Also Tuesday: Homeland Security Secretary nominee Gen. John Kelly 
Trump turned heads by appointing to his cabinet and inner circle three former generals, at least two of whom broke publicly with Obama's approach to foreign policy. Retired Gen. John Kelly, the least controversial of Trump's general picks, will appear before senators for a hearing to judge his ability to lead the Department of Homeland Security. Until 2016, Kelly oversaw American military operations in Central and South America. (Mic)
In the past, Kelly has said Russia is a major threat to American security, and he has not necessarily supported a border wall, breaking with Trump's friendly overtures to Vladimir Putin and the president-elect's promise to "build the wall." (New York Times) Senators will be sure to ask Kelly how he will work to implement construction of the wall. 
His hearing will begin at 3:30 p.m. Eastern.
Does the Jared Kushner appointment break the law?
As all eyes were turning to Trump's cabinet hearings, he made an announcement Monday that turned heads. Trump's son-in-law, Jared Kushner, will join Trump's inner circle as a senior adviser. The husband of Ivanka Trump will not be a government employee and will not take a salary. (Mic) These distinctions may keep Trump barely on the legal side of anti-nepotism laws that say no public official may appoint or employ a family member to receive government pay.
Despite this, Kushner is expected to play a major role in the administration. He will likely have a hand in trade and Middle East policies, along with general government operations. (Washington Post) Kushner will reportedly divest his assets to forego any appearance of conflict as he counsels Trump, continuing a relationship that blossomed through the 2016 campaign. (Politico)
And here's the latest from Trump on Twitter — where he has yet to weigh in on the Sessions hearing.