Dylann Roof sentenced to death for 2015 Charleston church shooting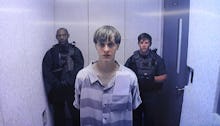 A jury on Tuesday sentenced Dylann Roof to death over the 2015 murders of nine black people at Emanuel African Methodist Episcopal Church in Charleston, South Carolina.
The 12-member panel, three black jurors and nine white jurors, that found the 22-year-old Roof guilty of hate crimes in the June 17, 2015, attack reached the death penalty verdict after less than three hours of deliberation. Testimony in Roof's sentencing trial lasted four days.
Jurors could have voted to give him life in prison without parole, according to the instructions they were given by U.S. District Court Judge Richard Gergel. Roof must now be formally sentenced by Gergel, in a separate court proceeding scheduled for Wednesday morning.
Former North Carolina state senator Malcolm Graham, brother of church shooting victim Cynthia Hurd, responded to the verdict via Twitter shortly after it was announced.
In December, the jury found Roof guilty on all 33 federal charges filed against him, including hate crimes resulting in death, obstructing the exercise of religion and firearms-related offenses. Roof represented himself during the sentencing proceedings, and aside from a brief closing argument Tuesday, he declined to call witnesses or present evidence that would have saved his life.
Roof's defense team, which was sideline in an advisory role for the penalty face, expressed sympathy for their client's victims' families. "We are sorry that, despite our best efforts, the legal proceedings have shed so little light on the reasons for this tragedy," Roof's lawyers said in a statement.
In a separate statement, the convicted killer's family offered its prayers to Emanuel AME and Charleston residents. "We are Dylann Roof's family. We will always love Dylann," they said in the statement. "We will struggle as long as we live to understand why he committed this horrible attack, which caused so much pain to so many good people."
Attorney General Loretta Lynch, who announced the government's intention to prosecute Roof in July 2015, said the jury had "rendered a verdict that will hold him accountable for his choices."
"No verdict can bring back the nine we lost that day at Mother Emanuel," Lynch said in a statement released after the verdict. "But we hope that the completion of the prosecution provides the people of Charleston – and the people of our nation – with a measure of closure."
Sen. Tim Scott, R-S.C., tweeted a statement after the verdict was announced Tuesday.
The tragedy shattered notions about how far the U.S. had moved from the legacy of slavery and white supremacy, and raised questions about Roof's radicalization into violent white nationalist ideology. It also prompted the permanent lowering of the Confederate battle flag — a banner widely seen to represent racial intolerance — which had flown atop the South Carolina statehouse.
Roof has also been charged for the shooting in state court. But a trial, previously scheduled to begin on Jan. 17, has been delayed indefinitely by Judge J.C. Nicholson, WCSC reported Thursday. In a statement, state prosecutor Scarlett Wilson said her office's plans to prosecute the case "have not changed."
"We have been closely monitoring and in constant consultation with the federal prosecutors who have done an outstanding job in the Roof case," Wilson said in the statement, according to WCSC.
Jan. 10, 2017, 6:08 p.m. Eastern: This story has been updated.