In a 9-page letter in 1986, Coretta Scott King nailed what's wrong with Jeff Sessions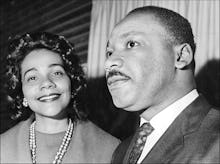 Up until her death in 2006, Coretta Scott King was a fierce advocate, moral authority and the ultimate protector of the legacy of her husband, Martin Luther King Jr. At one point, she saw Jeff Sessions, then a nominee for federal judge, currently President-elect Donald Trump's choice for attorney general, as a man who could "irreparably damage the work of my husband."
In a nine-page letter to Congress opposing Sessions' 1986 nomination that was first made publicly available by the Washington Post, King wrote that Sessions "lacks the temperament, fairness and judgment to be a federal judge."
"The irony of Mr. Sessions' nomination is that, if confirmed, he will be given a life tenure for doing with a federal prosecution what the local sheriffs accomplished twenty years ago with clubs and cattle prods," she wrote, later adding: "I believe his confirmation would have a devastating effect on not only the judicial system in Alabama, but also on the progress we have made toward fulfilling my husband's dream."
BuzzFeed also reported that the letter was never entered into the Congressional record by white supremacist Sen. Strom Thurmond, who at the time served as Judiciary Committee Chairman.
You can read the entire letter here. 
Sessions has served in the United States Senate for two decades. In his confirmation hearing on Tuesday, he fought back against allegations that he was a racist who'd once supported the Ku Klux Klan. 
"I abhor the Klan and its hateful ideology," Sessions said.