George R.R. Martin has a 'Winds of Winter' release update to get your hopes up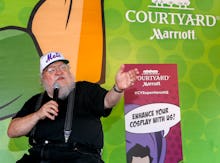 Now that Donald Trump is our next president and Game of Thrones author George R.R. Martin has compared his victory to winter arriving in Westeros, the least Martin could do is offer nerds a brief respite from the horrors of the real world with the highly anticipated release of his next novel. Yes, it's been a couple years since readers first expected The Winds of Winter, but considering how often Martin releases new chapters from the book, he's got to be close, right? 
Actually, yes, he might be. The typically hush-hush Martin was back to writing on his blog Monday, lamenting the awful playoff loss the New York Giants suffered at the hands of the Green Bay Packers. One fan responded to this post, respectfully asking him when long-suffering fans could expect The Winds of Winter. The fan didn't want to seem ungrateful, but Martin hadn't provided an update in awhile. 
Here's Martin response, in full: 
You really think statements like that would make a difference? Ah, you sweet summer child. I have years of experience with this that tells me otherwise.
This falls in line with an earlier Martin blog post in November, when he said he's scaling down his public appearances in 2017 so he can focus on finishing The Winds of Winter. So, with any luck, Martin might actually finish the book this year, and if he's fast enough, could release it ahead of the next season of Game of Thrones. The HBO series typically premieres in the spring, but a later production schedule (we kid you not, because they had to wait for winter to come) means we're looking at a release sometime over the summer. 
Still, perhaps fans shouldn't berate Martin too much over the lengthy delay of the book. He can kill off your favorite characters on a whim. Valar morghulis. 
Mic has ongoing coverage of Game of Thrones. You can follow our main Game of Thrones hub here.