Cory Booker, Black Caucus testify against Jeff Sessions' attorney general nomination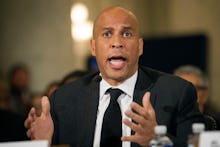 Sen. Cory Booker (D-N.J.) broke with U.S. Senate tradition Wednesday and testified against Senate colleague Jeff Sessions during the second day of Sessions' attorney general confirmation hearing.
"I want an attorney general who is committed to supporting law enforcement and securing law and order," Booker said during testimony before the Senate Judiciary Committee, as his colleagues in the Congressional Black Caucus looked on. "Senator Sessions has not demonstrated a commitment to a central requirement of the job — to aggressively pursue the congressional mandate of civil rights, equal rights and justice for all."
Sessions' nomination by President-elect Donald Trump in November drew immediate rebuke from black lawmakers and leaders of the civil rights community, who fear Sessions' confirmation would harm voting rights, criminal justice reform efforts and civil liberties for immigrants and the LGBTQ. Allegations of racial insensitivity, which Sessions denied before the judiciary on Tuesday, felled his nomination to a federal judgeship 30 years.
Booker said he isn't convinced, given Sessions' anti-civil rights voting record in the Senate, that he will protect equal rights for gays, women, immigrants and voters.
"His record indicates he won't," Booker said.
During the judiciary hearing Wednesday afternoon, a few of Sessions' African-American friends and former colleagues offered testimony on his behalf. Two of them refuted claims that Sessions is a racist, noting his 1980s prosecution of a Klansman for the lynching of the 19-year-old black man.
"One of the things that I can say about Jeff is that he has always been the same person that I have known," Willie Huntley, former assistant U.S. attorney for the southern district of Alabama, said during the hearing. "At no point in the time that I've known him has he demonstrated any racial insensitivity."
At the start of the hearing, the office of Senate Majority Leader Mitch McConnell of Kentucky circulated a photograph of Sessions, civil rights icon Rep. John Lewis (D-Ga.) and other Black Caucus members at a 2015 commemoration of the Voting Rights Act in Selma, Alabama.
Lewis, who hails from Sessions' home state, spoke out against the nomination by recounting the historic civil rights battles he fought as a young activist in Selma.
"I've tasted the bitter fruits of segregation," Lewis said Wednesday during the hearing. "We had to sit in, we had to stand in, we had to march."
If Sessions isn't unwavering in his commitment to protect civil rights laws, he shouldn't be the nation's top law enforcement official, Lewis said. "We need someone as attorney general who is going to look out for all of us, not just some of us," he said.