Watch Sen. Kamala Harris grill Gen. John Kelly on protection for immigrant youth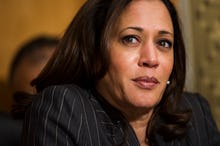 Gen. John Kelly's confirmation hearing to become the next United States Secretary of Homeland Security got off to a particularly contentious start on Tuesday when California Sen. Kamala Harris began grilling him on how the Trump administration would treat immigrant youth.
Specifically, Harris wanted to know what the Trump administration would do with one of President Barack Obama's signature immigration programs, Deferred Action for Childhood Arrivals, which the president signed into law in 2012. The program offered temporary relief from deportation to young immigrants who were brought to the United States as children and met a host of stringent requirements. More than 700,000 people have signed up for the program.
But Trump has threatened to deport millions of immigrants, leaving many of the program's participants worried about whether or not they will be targeted for removal once he assumes office. 
Lawmakers in California have already vowed to fight Trump's deportation plans, but Harris wanted to hear directly from Kelly, whose department would oversee Immigration and Customs Enforcement, about what immigrant youth can expect after Jan. 20, when Trump is inaugurated.
"Do you agree that under DACA ... we would not use this information against them?" Harris asked.
Kelly then answered that "the entire development of immigration policy is ongoing" and that "I would guess that this category [DACA participants] would not be the highest priority for removal."
Harris then asked whether DACA participants' family members could expect to be referred to ICE, which is referenced in a frequently asked questions portion of a document from U.S. Citizenship and Immigration Services.
 "I will definitely look very long and hard at the document," Kelly said. "I don't know where the upcoming administration is going."
Despite immigration being a key component of Trump's election platform, Kelly clearly wasn't ready to answer to where the administration might go on immigration. But nothing he said was reassuring for immigrant youth and their families. 
You can watch the entire exchange on CSPAN.