Tech titan Peter Thiel, who has Trump's ear, says "no corruption" is bad and boring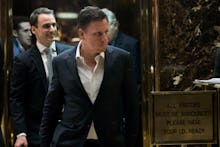 Silicon Valley's most famous contrarian just out-contrarianed himself. 
Venture capitalist Peter Thiel sat down with the New York Times to discuss a range of topics. He talked about whether the billion dollar software company Palantir, which Thiel co-founded and which collects data for clients including United States intelligence agencies, would help build a Muslim registry. (He said it would not.) He acknowledged the push to remove him from Facebook's board of directors. (He said it is "kind of crazy"). And he touched on the reports that he wants to inject himself with the blood of young people: He hasn't undergone parabiosis, but has used human growth hormones. ("We should not go gently into that good night," he said.)
But buried in the New York Times interview is a troubling comment from one of the most powerful men in tech who also happens to have the ear of the next president of the U.S. — Thiel is a member of Donald Trump's transition team.
"But there's a point where no corruption can be a bad thing," Thiel, who also donated $1.25 million to Trump's campaign, said. "It can mean that things are too boring."
This was in response to New York Times columnist Maureen Dowd pointing out that President Barack Obama "had eight years without any ethical shadiness."
For a powerful figure entrenched in the future administration to view a lack of corruption as something inherently negative is disconcerting, especially given the fact Thiel hasn't acknowledged whether he signed Trump's ethical code of conduct.
Transition team members who sign the code acknowledge they are precluded from "involvement in any particular transition matter which to my knowledge may directly conflict with a financial interest of mine, my spouse, minor child, partner, client or other individual or organization with which I have a business or close personal relationship."
So how does Thiel feel about conflicts of interest?
"I think in many cases, when there's a conflict of interest, it's an indication that someone understands something way better than if there's no conflict of interest," Thiel told the New York Times. "If there's no conflict of interest, it's often because you're just not interested."
A number of Thiel's companies have government contracts, including SpaceX and Helion Energy. It was also discovered that Palantir may already be playing a role in running systems to track immigrants. Casting both corruption and conflicts of interest in a positive light puts into question the values upheld in Thiel's many ventures, especially now that the Silicon Valley investor has the power to influence the president-elect.