US Mint and Treasury announce a black woman will be Lady Liberty on new currency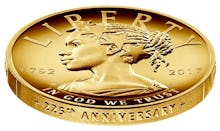 Lady Liberty is a black woman.
The U.S. Mint and Treasury is celebrating its 225th anniversary and unveiled on a new $100 coin on Thursday. It's the first time in United States history that Lady Liberty has not been portrayed as a white woman.
The Coinage Act, passed in 1792, notes that all coins are required to feature an "impression emblematic of liberty." This new coin was designed by Justin Kunz.
 FollowUnited States Mint ?@usmintTreasury & Mint officials unveiled the 2017 American Liberty High Relief Gold Coin! http://bit.ly/Event225_Unveiling ... #USMint225@USTreasury2:11 PM - 12 Jan 2017  330330 Retweets  389389 likes
"As we as a nation continue to evolve, so does liberty's representation," Elisa Basnight, U.S. Mint chief of staff, said at a ceremony unveiling the new coin, according to NBC News. "We live in a nation that affords us the opportunity to dream big and try to accomplish the seemingly impossible."
The new coin is set to be unveiled in April and is the first in a series of new, racially diverse commemorative coins to be released by the U.S. Treasury. Future designs will represent Lady Liberty as Hispanic-American, Asian-American, and Indian-American "to reflect the cultural and ethnic diversity of the United States," the Mint wrote in a press release.