Queen Latifah confirms that a 'Living Single' reboot is in the works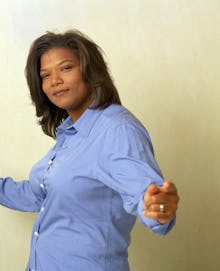 Khadijah, Maxine, Regina and Synclaire are coming back to a TV near you.
Queen Latifah confirmed on Thursday night's episode of Watch What Happens Live that she's in the early stages of working with all of the original cast members to reboot the show.
The sitcom, which debuted in 1993 and had a stellar five-year run, was a pioneering show about four black women in their 20s living and loving in New York City. It was so pioneering, in fact, that it actually served as the template for Friends, which debuted on NBC after Living Single, and was about a group of white twentysomethings finding their way in the Big Apple.
Host Andy Cohen asked Latifah about the connection on Thursday. "When Friends came out did you think, 'Wait a minute, we've already been doing this?'"
"No, we knew we had already been doing that," Latifah laughed, before explaining that television executive Warren Littlefield was such a fan of the show that he created Friends after Living Single went off air.
We don't have many more details about the Living Single reboot, but we'll keep watching.
Correction: Jan. 13, 2017