Chicago Police Department engaged in rampant abuses, DOJ says. Read the full report here.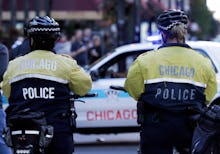 Officers in the Chicago Police Department routinely used excessive and deadly force that violated subjects' constitutional rights, according to a U.S. Department of Justice report released Friday.
The investigation into the practices of the department, launched more than a year after the October 2014 police shooting death of 17-year-old Laquan McDonald, found that officers engaged in a pattern or practice of abuses that federal officials attributed to "deficiencies" in how the CPD trains, investigates and punishes officers on the use of force.
Racist conduct is also prevalent among some CPD officers — behavior that was tolerated because of the deficiencies in the CPD's systems of training, supervision and accountability, the DOJ said in a statement.
The report details alleged racial slurs that officers used against city residents:
Black youth told us that they are routinely called "nigger," "animal," or "pieces of shit" by CPD officers. A 19-year-old black male reported that CPD officers called him a "monkey." Such statements were confirmed by CPD officers. One officer we interviewed told us that he personally has heard co-workers and supervisors refer to black individuals as monkeys, animals, savages, and "pieces of shit." 
"One of my highest priorities as attorney general has been to ensure that every American enjoys police protection that is lawful, responsive and transparent," U.S. Attorney General Loretta Lynch said in the statement released with the agency's 164-page report. "Sadly, our thorough investigation into the Chicago Police Department found that far too many residents of this proud city have not received that kind of policing."
As a result of its findings, the DOJ and Chicago have agreed to negotiate a comprehensive settlement agreement that would include reforms in the use of force, as well as improvements to its office accountability systems, data collection, transparency and officer wellness programs, according to federal officials.
Lynch announced the probe Dec. 7, 2015, following the release of police dashboard footage of McDonald's shooting death. The video shows Officer Jason Van Dyke opening fire on the teen, as his back appears turned to officers. Van Dyke shot McDonald 16 times, some of them coming after the teen had fallen to the ground.
McDonald was found with a knife. But Van Dyke and other officers told their supervisors that McDonald had lunged at them — and that became the official police narrative on the shooting until a state judge forced the release of video footage in November 2015.
Van Dyke is facing trial on murder charges. The alleged cover-up led to the termination of a handful of officers last fall.
Editor's note: The following footage contains graphic violence. View with discretion.
This marks at least the third time under the Obama administration that federal officials sought a court-enforceable consent decree with a local police agency. Typically, the agreements came in the wake of local and nationwide outcries over lethal and discriminatory policing in communities of color.
On Thursday, the DOJ announced set of reforms inspired by the 2015 police-involved death of Freddie Gray in Baltimore. The agency rapped the Baltimore Police Department in August over unjust stops and arrests. In 2015, federal law enforcement officials also harshly criticized rampant unconstitutional practices and policies among police and city officials in Ferguson, Missouri, after the August 2014 officer-involved fatal shooting of unarmed black teenager Michael Brown.
Read the DOJ's full report on Chicago's police force below: