Loretta Lynch, the nation's first black female attorney general, bids farewell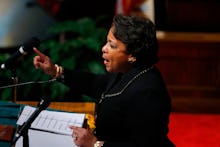 U.S. Attorney General Loretta Lynch, the first African-American woman to serve as the nation's top law enforcement official, bid farewell to her post on Sunday in a speech delivered from a place as historic and consequential to racial justice in America as her appointment: the 16th Street Baptist Church in Birmingham, Alabama.
"When I was born, it would have been unimaginable to think that an African-American woman could even sit on a jury, much less serve as the nation's chief law enforcement officer.," Lynch, 57, said in her final address as attorney general from the sanctuary of the church.
In 1963, four reputed Klansmen bombed the church, killing four black girls — the act would later spur passage of the federal Civil Rights Act of 1964. The church was targeted because Martin Luther King Jr. and others had used the 16th Street Baptist as an organizing hub during the civil rights movement.
"But because of what happened here in Birmingham, I stand before you today as attorney general of the United States, serving in the cabinet of the first African-American president of the United States," Lynch said on Sunday, just ahead of Martin Luther King Jr. Day.
"That progress is real, it is remarkable, and it should be a source of pride and hope for all Americans," she added.
As she prepares to hand over the Justice Department to a controversial, not-yet-confirmed successor in Alabama Sen. Jeff Sessions, Lynch leaves behind a record of pushing policing reforms, prosecuting hate crimes and protecting LGBTQ rights. To Sessions, who has said he feels police officers were unfairly picked on by the Obama administration, Lynch will pass on a handful of unresolved police misconduct cases, including the probe of Eric Garner's 2014 chokehold death by New York City police.
Some of Lynch's work was undoubtedly shaped by the Black Lives Matter movement's response to police violence, and by the civil rights work begun under her predecessor, Eric Holder — the first African-American attorney general. Some of Lynch's counterparts in the civil rights community said they will remember her as a public servant who sought to build trust in the U.S. justice system.
"In almost every area of civil rights — from prosecuting hate crimes to challenging housing, disability discrimination or violations of religious freedom, Attorney General Lynch set a high bar as the chief enforcer of the nation's civil rights laws," Sherrilyn Ifill, president and director-counsel of the NAACP Legal Defense Fund, said in a statement to Mic. 
Wade Henderson, president and CEO of the Leadership Conference on Civil and Human Rights, cited Lynch's progress on the "Smart on Crime" initiative — a counterpunch to the "tough on crime" policies championed for decades by white predecessors — which sought to reverse years of disparate sentencing and treatment of racial minorities by the judicial system.
"Our nation is a safer, more just place for the work she has done at the department and we honor her for her service," Henderson said in a statement to Mic.
Lynch's tenure at the Justice Department got off to a rocky start. 
Following her nomination by President Barack Obama in November 2014, Lynch waited almost five months to be confirmed by the U.S. Senate — longer than the seven previous attorney general nominees — due largely to a Republican pledge to obstruct the first black president at every turn.
"There is no doubt that we face real and difficult obstacles in our ongoing quest for a more just and united future," Lynch said in the Birmingham speech. "But if there is one lesson we can draw from the life of Martin Luther King, it is that adversity is not a cause for despair. It is a call to action."
The role of attorney general isn't just about protecting civil rights. Over the more-than-20 months since her confirmation, Lynch handled a wide breadth of noteworthy cases, including securing indictments of FIFA officials in a wide-ranging international soccer corruption scandal, and pursuing Volkswagen executives after a long-running scheme to cheat U.S. environmental regulations.
Under Lynch, the Justice Department investigated rampant abuse in local police departments, most notably in the Chicago Police Department and the Baltimore Police Department following the officer-involved deaths of unarmed African-Americans Laquan McDonald and Freddie Gray. Holder, Lynch's predecessor, had investigated police departments in Ferguson, Missouri, and Cleveland following the police shooting deaths of Michael Brown and Tamir Rice.
In each of the probes, Lynch and Holder sought court-enforceable consent decrees that would spur reforms in police departments. They said officers had routinely profiled and used excessive force against black and Latino residents. In some cases, allegations against the departments cited officers' use of racial slurs and anti-transgender statements.
Born in Greensboro, North Carolina, Lynch spoke out boldly against her home state's passage of a "bathroom bill" restricting the right of transgender individuals to use public restrooms that correspond to their gender identity. "No matter how isolated or scared you may feel today, the Department of Justice and the entire Obama Administration wants you to know that we see you; we stand with you; and we will do everything we can to protect you going forward," the attorney general said, speaking directly to transgender individuals as she announced a lawsuit to block the North Carolina legislation in May 2016.
Following the election of President-elect Donald Trump, and amid a reported increase of anti-Muslim and anti-immigrant hate crimes, Lynch encouraged victims to report the crimes to the Department of Justice. Under her leadership, the government successfully prosecuted Dylann Roof, the 22-year-old avowed white supremacist who murdered eight black churchgoers and their pastor at Emanuel African Methodist Episcopal Church in Charleston, South Carolina, for hate crimes.
But for all her seeming successes as attorney general, Lynch's civil rights counterparts noted there have also been some disappointments. For one, she sought the death penalty against Roof, which the NAACP LDF opposes in all cases.
"My biggest disappointment is the failure to complete and resolve the Eric Garner federal investigation before her departure," Ifill said. 
Unarmed 43-year-old black man Eric Garner died in a videotaped takedown by New York Police Department officers arresting him for selling loose cigarettes in Staten Island. According to the Washington Post, Lynch's approval of an investigation into Garner's case came too late for DOJ lawyers to seek a grand jury indictment on her watch.
"As I leave here, my belief still stands: that the Department of Justice will, and must, be a force for good in our nation," Lynch said during a Jan. 11 farewell ceremony hosted by her DOJ colleagues. "I leave here more confident than ever that no matter the turn of the electoral wheel, our work remains urgent and important."
With just days left on the job, Lynch isn't mincing her words about widespread concerns that her likely successor will turn back the clock on civil rights and equality under the law. Sessions received ample pushback during his Senate confirmation hearings over his solidly anti-civil rights, anti-voting rights and anti-police reform legislative record.
Addressing congregants in the sanctuary at 16th Street Baptist, Lynch sought to inspire hope ahead of the changing of the guard.
"I know that we are in difficult days now. Many worry that Dr. King's dream, and all that has flowed from it, is at risk like never before," Lynch said. "But many of our greatest strides, in equal rights, in human rights, have come after heartbreaking loss."
"This hallowed ground is a testament to that," she said.