Canada might be getting its own Donald Trump: 'Shark Tank' villain Kevin O'Leary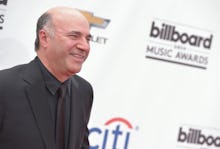 Shark Tank star Kevin O'Leary wants to make Canada an offer it can't refuse: himself, as leader of the country's Conservative Party.
O'Leary announced his candidacy on his personal Facebook page on Wednesday, thanking the "40,000" Canadians he claims encouraged him to run.
"What an opportunity we have in this country. Limitless bounty," he said. "Such opportunity to turn it around. I'm so excited. It's time." 
"The potential of this country is absolutely immense. It's just really mismanaged," he added.
Eagle-eyed observers might immediately spot some similarities between O'Leary and one President-elect Donald Trump of the United States: Both are shrewd, conservative businessmen-turned-reality-stars who announced their candidacies amid already crowded conservative fields. Trump's GOP opponents numbered at least a dozen when he entered the presidential race in 2015; O'Leary will join 13 other candidates in the running for the Conservative Party's leadership.
But beyond the superficial similarities, O'Leary is also making early waves as a divisive candidate. 
According to the the Toronto Sun, one of his opponents, Lisa Raitt, began pre-emtively protesting his candidacy before it was even announced, citing O'Leary's "negative, irresponsible" campaign strategies as the reason for her consternation.
But conservative strategist Chad Rogers told CBC News that voters shouldn't underestimate O'Leary's ability to wield his name recognition as a tool to bolster the credibility of his candidacy.
"We look south of the border at Mr. Trump, we look here in Canada at Justin Trudeau, on the front end of their campaigns people didn't take it seriously and they underestimated the value of starting the race with dramatically higher name recognition with average Canadians than other politicians," he said.
Bad news for any U.S. residents who were looking to move to Canada after the 2016 presidential election — looks like it's Mars 2020 or bust.